SNOWBOARD CROSS. Dominique Maltais (CAN) and Alex Pullin (AUS) clinched the fifth stop of the Snowboard Cross tour of the 2013 FIS Snowboard World Cup in Arosa, Switzerland, today. Earning 1,000 points for their wins on the 2007 World Championships slope the two World Cup leaders extended their lead in the race for the Crystal Globe thus sitting in a comfortable position with only two more events to come.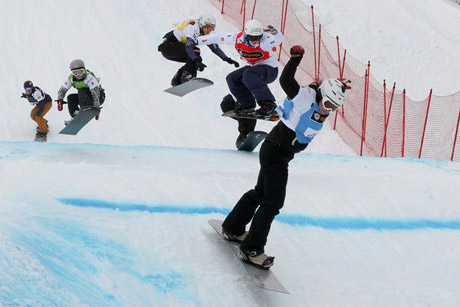 SBX World Cup Arosa - Finals - Heat 5 Women - Alexandra Jekova (BUL) in blue, Nelly Moenne Loccoz (FRA) in red, Maria Ramberger (AUT) in yellow, Yuka Fujimori (JPN) in green and Callan Chythlook-Sifsof (USA) in black © FIS/Oliver Kraus

Maltais secured her season's third in the women's final which featured the top six ladies of the day with an impressive wire to wire; only her team mate reigning World and Olympic Champion Maelle Ricker, who finished in third in the end, was able to breath down her neck a little bit.

"It was close with Maelle in the beginning, so I tried to only focus on my line," said Maltais after her career's tenth win.
"I'm really happy. I had a very good beginning of the season. Then I missed the Sochi race a bit. So it feels good to be back on the top of the podium."

The Canadian top gun who brought home Bronze from the 2006 Olympic Winter Games in Torino, Italy, was accompanied on the podium by this season's shooting star.

Michela Moioli (ITA), who just competed in her career's fourth World Cup race, came in second and thus already earned her second podium finish after winning in Sochi a few weeks ago.

"I'm very happy. I never expected this season to turn out like this. I started the season with the goal to do good but like this? I never thought of this."

Photo finish to decide about men's victory

On the men's side, 2011 and 2013 World Champion Alex Pullin had an exciting fight with Nate Holland (USA) all the way down from top to finish coming out triumphant from a super close photo finish.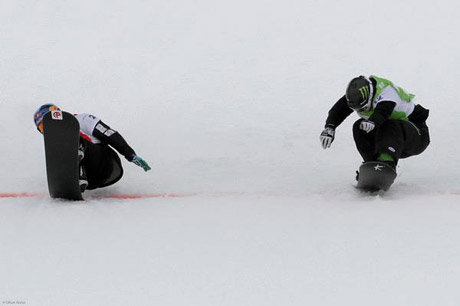 SBX World Cup Arosa - Finals - Men's Final - Photo Finish Alex Pullin (AUS) just a tiny bit ahead of Nate Holland (USA) in green © FIS/Oliver Kraus

"I'm really happy to come out on top of that photo finish. It was nice to put it together in the final," explained the Aussie racer after his career's third win.

However, Mr. X-Games Nate Holland almost thwarted his plans by performing a perfect pass in turn three.
"But then Chumpy got me back right at the finish. But races like that make it all worth it. That's boarder cross at it's best," summed up Holland after his career's 15th podium being just a little bit frustrated after loosing in a photo finish.

"It always is a little bit disappointing when you are that close. But I'm stoked to get on the podium.
This year is kind of a building block for next year. I've been battling with injuries since Sochi (bruised ribs). But I feel like I'm back on top of my game."

Definitely on top of his game is Lucas Eguibar (ESP), who had taken Gold at the 2013 FIS Junior World Championships in Turkey just a few days ago. The second to male Spaniard to bring home a top-3 World Cup result since Iker Fernandez crowned his incredible race week with his career's first podium finish placing third in his fifth World Cup start.

"I'm very happy. I haven't been competing much in this discipline yet. It's been a perfect week with the Junior Worlds title and my first World Cup podium now."

Maltais and Pullin comfortably lead race for World Cup title
However, he won't have a say in the decision for the Crystal Globe as Alex Pullin seems to be able to bring home his second title.

The 25-years-old from down under sits in first with 3,550 points collected so far. Markus Schairer (AUT, 2,400) and Omar Visintin (ITA, 2,280) are his main pursuers.
According to this, Pullin noted: "It's nice to lead the World Cup. It definitely plays in your mind a little bit. You really want that yellow bib. Once you have it you don't want to let it go."

While Pullin aims for his second, Dominique Maltais is close to her third in a row and fourth Crystal Globe in total.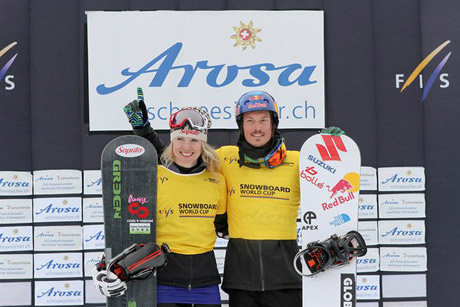 SBX World Cup Arosa - Finals - World Cup leaders after Arosa, Dominique Maltais (CAN) and Alex Pullin (AUS) © FIS/Oliver Kraus

With only two more races in Veysonnaz, Switzerland and Sierra Nevada, Spain to come, Maltais now leads the Snowboard Cross World Cup standings with 4,000 points ahead of Nelly Moenne Loccoz (FRA, 2,710) and Michela Moioli (ITA, 2,270).
FISsnowboard.com
Saturday 9 March 2013