CROSS-COUNTRY SKI. This weekend saw over 3000 spectators flock to Špindlerův Mlýn in the Czech Republic to witness some of the world's best cross-country skiers take part in the first ever Red Bull NordiX World Finals to be held in the country. Cheered on by the huge home crowd, local hero Dušan Kožíšek battled through health problems to take gold in the men's event, while in the women's race Lída Horká defended her title from last year's event in Holmennkollen.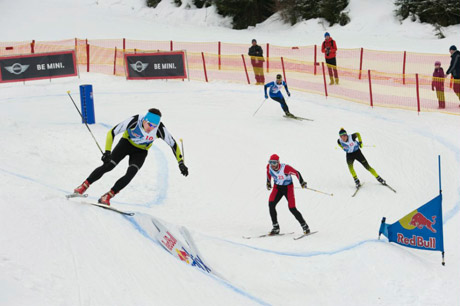 Competitors perform at Red Bull Nordix in Spindleruv Mlyn, Czech Republic on March 30th, 2013. Photo: Jan Kasl / Red Bull
SPINDLERUV MLYN (Czech Republic) – Six races, six wins, one world title – that was the story of Dušan Kožíšek's weekend at Red Bull NordiX 2013. Following first place in Friday's qualification, the 29-year-old Czech athlete took top spot in all four of his heats and in the final on Saturday. Yet, incredibly, Kožíšek's had initially been reluctant to participate due to stomach problems.
"I was suffering," admitted the two-time Olympian. "In the morning I wasn't well. I was sick and I could barely stand on my feet. I wasn't even able to have a sip of water. I was afraid I was going to faint."
Despite missing out on the warm-up and arriving at the arena only minutes before the start of his first race, Kožíšek looked strong on every climb. In the final it was on one of the last of these climbs that he surged past Mario Kubis, who took second. Another Czech skier, Daniel Maka, finished third.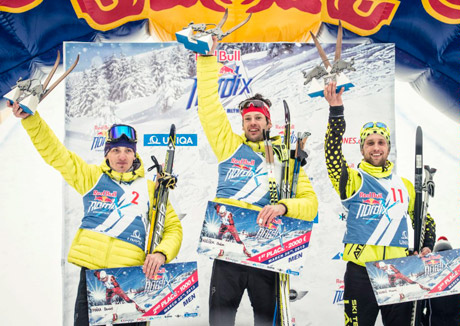 1st Dusan Kozisek, 2nd Daniel Maka and 3rd Mario Kubis celebrate during the Red Bull Nordix Final in Spindleruv Mlyn, Czech Republic on March 30th, 2013. Photo: Dan Vojtech / Red Bull
The 64 best racers from Friday's qualification joined the field for the heats, meaning that the four finalists had to race no fewer than five times in just three hours. There were some hard fights at the head of the race, while many athletes at the back of the pack entertained the crowd with a range of tricks over the final jump into the finish.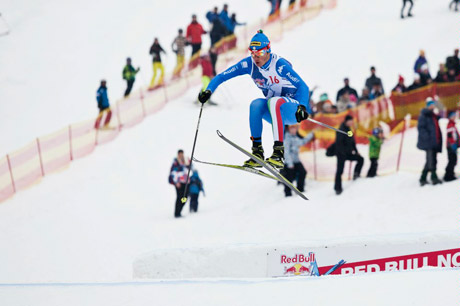 Competitor performs at Red Bull Nordix in Spindleruv Mlyn, Czech Republic on March 30th, 2013. Photo: David Robinson/Red Bull
As at last year's event in Norway, the women's category was once again dominated by Lída Horká, who successfully defended her Red Bull NordiX title on home snow. "I'm happy. It was definitely harder than in Oslo last year. The track was longer and more challenging. It was also icier and the climbs were higher," said Horká, a member of the Czech national team and participant in this year's U-23 World Championships in Liberec.
Red Bull
02 April, 2013