France's Alexis Pinturault, the 'Kid from Courchevel', kept on surprising the ski racing community in past seasons and fully confirmed his potential as a future top contender for the big World Cup crystal globe. The newly crowned 'Raising Ski Star' of the 2013 season presented by Longines, the Official Timekeeper of the FIS Alpine World Cup tour and the FIS Alpine World Championships, has actually been enjoying much more success this winter than expected at the season start.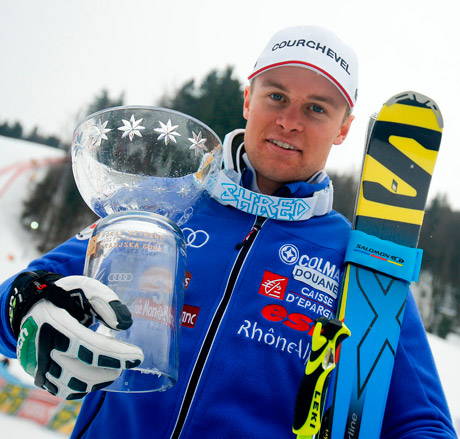 Alexis Pinturault of France takes 3rd place during the Audi FIS Alpine Ski World Cup Men's Giant Slalom on March 09, 2013 in Kranjska Gora, Slovenia. (Photo: Stanko Gruden/Agence Zoom/Getty Images Europe)
Last December, he truly achieved a dream celebrating his maiden slalom victory at Val d'Isère in front of a happy crowd of fans and friends. They supported him loudly during that thrilling night race while he was rushing down the treacherous 'La Face' course on Bellevarde to establish a new best time that remained out of reach for his main rivals!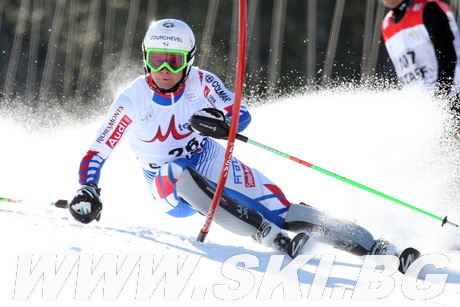 Alexis Pinturault (FRA), Audi FIS Alpine Ski World Cup Bansko 2012, Slalom men, 19.02.2012, photo: SKI.BG
A month later, he clinched the prestigious Lauberhorn Super-combined at Wengen ahead of the established all-rounder Ivica Kostelic, and later on in February he dominated the challenging giant slalom at Garmisch-Partenkirchen finishing ahead of the two best technical skiers on the tour, Marcel Hircher and Ted Ligety!
Four wins in four disciplines.
Within a year, 'Pinturault' managed in fact to celebrate four impressive wins in four different disciplines – including the parallel slalom of the 'City Event' at Moscow in February 2012. Despite severely injuring himself at an ankle playing tennis last summer and a handicapping lack of physical and technical preparation, Alexis was able to end once more the season among the world best athletes – in 6th position in the final World Cup standings, good enough to clearly secure his triumph in the new Longines Trophy.
Considered for years as one of the most skilled athletes in the French junior team, Pinturault had captured two gold medals in giant slalom at the FIS junior World Championships in 2009 (Garmisch-Partenkirchen) and 2011 (Crans-Montana) before becoming the very first Frenchman ever to clinch the Overall Europa-Cup title in March 2011. That month, he also claimed his first World Cup podium at Kranjska Gora where he finished 2nd in giant slalom, between two of the very best specialists in recent years, Switzerland's Carlo Janka and USA's Ted Ligety.
First points at Hinterstoder 2011.
This promising performance was achieved only a month after claiming his first World Cup points at Hinterstoder, in Austria, finishing 6th in the difficult Super-G despite his high start-number 62. That result qualified him the FIS Worlds at Garmisch-Partenkirchen. After the decision of his injured colleague Julien Lizeroux to skip the slalom there, Alexis took over his place in that race, ending it at a promising 17th position. At that point, he had clearly proved that he was also able to play a main role on the World Cup tour.
The French skier started the 2011/2012 season the same impressive way – claiming 2nd place at Soelden in the 'Opening World Cup' giant slalom race behind Ligety! In the following months, he had also excelled in other specialties, reaching more podiums in Super-combined (Chamonix), slalom (Kranjska Gora) and Super-G (Schladming) and celebrated his maiden World Cup win at the City Event at Moscow after beating Germany's Felix Neureuther in the final.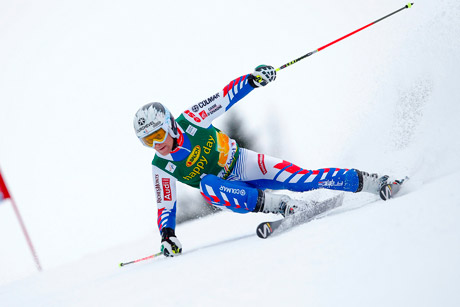 Alexis Pinturault of France takes 3rd place during the Audi FIS Alpine Ski World Cup Men's Giant Slalom on March 09, 2013 in Kranjska Gora, Slovenia. (Photo: Stanko Gruden/Agence Zoom/Getty Images Europe)
Three years after his debuts on the World Cup tour at Are in March 2009, Pinturault found himself in 10th place in the 2012 Overall standings, missing by only a few hundredths his first ever points in downhill at Schladming where he came in 16th during the Finals! More than once, Alexis showed great determination moving at his best despite lack of speed training.
Alexis is going for it!
A very outgoing and cool young man who has the guts and the class to challenge Marcel Hirscher and Ted Ligety in the tech events and fight for more medals and victories, Pinturault has always been supported by his parents during his career. His father Claude, who runs a very nice hotel in Courchevel, l'Annapurna' built in the early 1970s, and his mother Hege Wiig, born in Norway, showed him the right way to move on. They foremost taught him to always stay focused in his career. In fact Alexis is known to be a hard worker when training or skiing.
Alexis enjoys doing all kinds of sports during the off-season, playing golf and wakeboarding where and whenever it's possible. At home, he also likes to ride his endure motorcycle. His excellent physical shape strongly helped him had to overcome his surgery at the tore ligaments of his injured ankle foot that has forced to take a long break in summer 2012. Even though he could not train properly during several weeks, Alexis only needed a short time finding back most of his rhythm when he was back on snow in the middle of October.
At only 22 (since last March), Alexis Pinturault surely has a bright future ahead of him!
A.I.J.S. Ski Press
April 09, 2013