SKI MOUNTAINEERING. One more time the Monte Rosa takes over and the weather forecast constrains the Fondazione Trofeo Mezzalama to postpone the XIX-th edition of the race, scheduled for April 27, Saturday.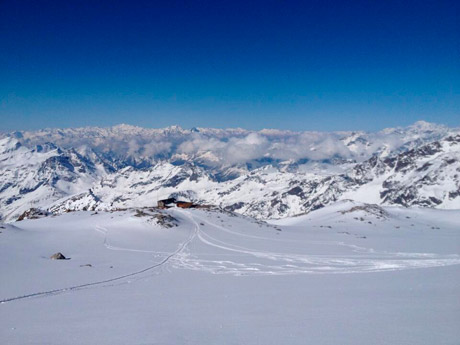 The Bulgarian ski mountaineer Ivona Mihaylova, who will be first and only Bulgarian participiant in Trofeo Mezzalama race, makes hight altitude trainings at the area of Refugio Mantova (3498m), Monte Rosa massif on April 23, 2013, Photo: Ivona Mihaylova
"In the last two days we controlled all the information about the atmospheric disturbance that is going to arrive on the Monte Rosa, we hoped to localize a break in the bad weather but this morning we understood that, for now, it is impossible so the Trofeo Mezzalama won't take place this week end. We spoke to Luca Mercalli and to the Regione Valle d'Aosta, for what concerns technical aspects, then we decided with Giorgio Pession to take this decision. In two days we will communicate the new date."
by Trofeo Mezzalama
 24 April 2013, 14:19