FREERIDE WORLD TOUR. Lausanne, Switzerland – October 30, 2013 – Organizers of the SWATCH FREERIDE WORLD TOUR BY THE NORTH FACE® (FWT) proudly announce the addition of two prestigious partners to FWT 2014: legendary automobile manufacturer Audi, and famed winter sports brand Marker Völkl.
Audi has long distinguished itself as one of the most important partners in the world of skiing with enduring involvement in alpine skiing across the world. Audi is a twelve-year sponsor of the Hahnenkamm race, title sponsor of the FIS Alpine Ski World Cup and the FIS Ski Cross World Cup, presenting sponsor of the FIS Alpine World Ski Championships, and sponsor of 15 national alpine ski teams. Freeride World Tour is proud to announce their new three-year sponsorship agreement with the German brand as official partner of the tour.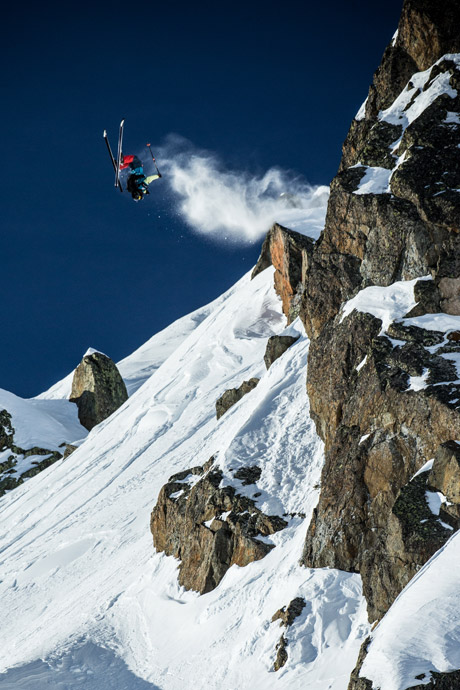 Florian Zitzlsperger, Head of brand partnerships and sports marketing AUDI AG, said: "The commitment in the Freeride World Tour perfectly complements our winter sports program. By presenting the Ski Cross World Cup we've started to address a young target group and are now logically continuing to pursue this path with the Freeride World Tour. Impressive images, exciting locations and new presentation opportunities for our brand in a fascinating environment – we look forward to the constructive partnership with the Freeride World Tour."
Nicolas Hale-Woods, General Manager of FWT Europe, praised the new development: "Freeride World Tour's partnership with Audi is fantastic news. Audi is simply the ideal automotive partner for any alpine event. Their product, image, and commitment to winter sports are unequaled. There's no better fit for Freeride!"
Marker, official ski binding supplierto the FWT since 2012, returns in 2014 with the addition of Völkl. Völkl becomes one of two official suppliers for the ski category along with Scott. Marker Völkl International has always been one of the most recognized names in Freeride, and their commitment to FWT 2014 builds on that legacy. The Marker Völkl international team includes decorated FWT riders like Sam Smoothy (NZL), Charlie Lyons (NZL), Markus Eder (ITA), Nadine Wallner (AUT) and many more.
"The Freeride World Tour is a unique contest based on a great concept.The world's elite take on the toughest challenges this sport has to offer, thrilling the fans with spectacular lines. Years ago we started campaigning for the tour with Marker, now we're working with Völkl as well. As an equipment maker, the FWT provides us with the ideal platform for showcasing the tremendous performance of all our Freeride products — from skis and bindings to the new Marker Protective Snow Equipment. The widespread success of our riders speaks for itself," said Bert Lammel, Marketing Manager of Marker Völkl International.
Nicolas Hale-Woods added: "The renewal of FWT's partnership with Marker is a great sign for the freeride industry. And as good news never comes alone, we are welcoming iconic ski brand Völkl to the FWT family!"
Audi and Marker Völkl join FWT's ongoing title sponsor SWATCH and presenting partner The North Face®. The tour is also proud to continue to work with world class hosting resorts, Revelstoke Mountain Resort, Courmayeur Mont Blanc, Chamonix-Mont-Blanc, Fieberbrunn Kitzbüheler Alpen, Kirkwood, and Verbier St-Bernard. Official suppliers Scott, GoPro, ABS, Primaloft, Blue Tomato, and Kask of Sweden also offer invaluable support to FWT.
Every Freeride World Tour event of 2014 features a public event village where the official partners and suppliers connect face-to-face with the general public. These event villages are the perfect place for visitors to learn more about the indispensible products and technologies that make Freeride possible and allow the best riders in the world to perform at their highest level.
For further information, please visit www.freerideworldtour.com
SWATCH FREERIDE WORLD TOUR BY THE NORTH FACE® 2014 Competition Calendar
1. Swatch Freeride World Tour Revelstoke by The North Face®
Dates: Dec. 18, 2013; Location: Revelstoke, CAN
Disciplines: Men's and Women's Ski and Snowboard
2. Swatch Freeride World Tour Courmayeur Mont Blanc by The North Face®
Dates: Jan. 18, 2014; Location: Courmayeur Mont Blanc, ITA
Disciplines: Men's Ski and Snowboard
3. Swatch Freeride World Tour Chamonix-Mont-Blanc by The North Face®
Dates: Jan. 25, 2014; Location: Chamonix-Mont-Blanc, FRA
Disciplines: Men's and Women's Ski and Snowboard
4. Swatch Freeride World Tour Fieberbrunn Kitzbüheler Alpen by The North Face®
Dates: Feb. 1, 2014; Location: Fieberbrunn Kitzbüheler Alpen, AUT
Disciplines: Men's and Women's Ski and Snowboard
5. Swatch Freeride World Tour Kirkwood by The North Face®
Dates: March 1, 2014; Location: Kirkwood, USA
Disciplines: Men's and Women's Ski and Snowboard
6. Swatch Xtreme Verbier by The North Face®
Dates: March 22, 2014; Location: Verbier, SUI
Disciplines: Men's and Women's Ski and Snowboard
SWATCH
Swatch, launched in 1983 by Nicolas G. Hayek, is a leading Swiss watch maker and one of the world's most popular brands. The first Swatch watches surprised everyone with their revolutionary concept, creative design and provocative spirit. Today Swatch continues to innovate and surprise with new models, collections and special editions. The brand maintains a strong presence in the world of sports with its commitment to snowboarding, freeskiing, surfing, FMX and ice cross downhill. Right from the start, Swatch connected with art and artists, and Swatch watches remain a prominent canvas for artists from a broad range of disciplines. www.swatch.com
THE NORTH FACE®
The North Face, a division of VF Outdoor, Inc., was founded in 1968. Headquartered in Alameda, California, the company offers the most technically advanced products in the market to accomplished climbers, mountaineers, snowsport athletes, endurance athletes, and explorers. The company's products are sold in specialty mountaineering, backpacking, running, and snowsport retailers, premium-sporting goods retailers, and major outdoor specialty retail chains. For more information, go to www.thenorthface.com.
AUDI
In 2012, the Audi Group delivered 1,455,123 cars of the Audi brand to its customers, generated revenue of €48.8 billion and achieved an operating profit of €5.4 billion. The Audi Group is globally present in more than 100 markets and produces vehicles in Ingolstadt and Neckarsulm (Germany), Győr (Hungary), Brussels (Belgium), Bratislava (Slovakia), Martorell (Spain), Kaluga (Russia), Aurangabad (India), Changchun (China) and Jakarta (Indonesia). The brand with four rings will produce cars also in Foshan (China) as of late 2013, in 2015 in São José dos Pinhais (Brasilien) and 2016 in San José Chiapa (Mexico). AUDI AG's wholly owned subsidiaries include quattro GmbH (Neckarsulm), Automobili Lamborghini S.p.A. (Sant'Agata Bolognese, Italy) and the sports motorcycle manufacturer Ducati Motor Holding S.p.A. (Bologna, Italy). The Group currently employs more than 70,000 people worldwide, including around 50,000 in Germany. Total investment of approximately €11 billion is planned by 2015 – mainly in new products and sustainable technologies. Audi lives up to its corporate responsibility and has strategically established the principle of sustainability for its products and processes. The long-term goal is CO2-neutral mobility. www.audi.com
MARKER
For more than 60 years now, Marker has been a driving force of skiing innovations and solutions. As a pioneer and premium manufacturer of bindings systems and protective snow equipment, the Marker name is synonymous around the globe with performance and safety in winter sports. Marker's Royal Family of freeski bindings have attained legendary status, as can be seen in the roster of pro riders who put their trust in Marker even in the toughest arenas, including the Freeride World Tour. More information www.marker.net
VÖLKL
As the sole ski maker developing and producing in Germany, Völkl is proud of its 90 years of "Made in Germany" quality. The brand with the famous double V has been the origin of many of the greatest innovations in the history of skiing. The firm from the Bavarian town of Straubing is today among the most famous and successful global brands in winter sports, serving up world-class gear for classic alpine as well as freeride and freestyle adventures. Volkl's international freeski team brings together some of the best riders on the planet, who lay it all on the line atop Volkl ski models like the KATANA and TWO. More information www.voelkl.com
FWT MANAGEMENT
FWT Management SA, based in Lutry/Lausanne-Switzerland, is organizing world-class sports events in mountain resorts and regions since 1996. Founder of "Verbier Xtreme" – iconic event in freeride skiing & snowboarding –, FWT Management SA has taken the stand-alone Verbier Xtreme event to create Freeride World Tour, Freeride World Qualifying Series, Freeride Junior Series, and a Freeride Skiing Team Competition (Swatch Skiers Cup) with events in Europe, North America, South America and Oceania.
MOUNTAIN SPORTS INTERNATIONNAL
Mountain Sports International (MSI) is a private company, founded in 1997, to develop and produce action/adventure sports events and programming in North America. MSI founded the Freeskiing World Tour, The North Face® Masters, The North Face® Park and Pipe Open Series, as well as several other properties and concepts. MSI launched MSI Live in 2009, to provide live HD webcast production, content management, encoding, and satellite uplink & delivery. MSI provides event management services, infrastructure and expertise for high-end brands, including The North Face®, Burton, Red Bull, Subaru, UFC, and Sierra Nevada. MSI specializes in matching clients with events for brand penetration into target demographics, developing product identification and loyalty. MSI matches brand and culture, company and credibility, to create sought-after events that help to define the action sports culture.
Press Release
SWATCH FREERIDE WORLD TOUR BY THE NORTH FACE®
Wed, October 30, 2013 2:26 pm