SAILING. Race day 4 at the 2015 420 and 470 Junior Europeans sees the leaders really start to assert their position in the 420 Open and 420 U17 fleet. In the 470 Men and 470 Women fleets, the leaderboard is much more finely balanced, with Friday's final two races to decide the ten boat medal race line-up set to be gruelling.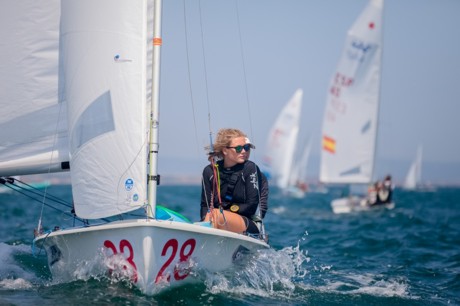 Photo: Viktor Nalbantov / 470 Class
A short postponement ashore, before the 412 sailors in the four Championship fleets headed out for two races in each fleet out on the course areas off Bourgas Beach in a breeze of around 10 knots. Although by the time the 470 fleets finished their racing, the breeze had dropped significantly to a light wind struggle.
470 MEN
The tipping point in the 470 Men arrived today, as the consistent scoreline from David Charles/Alex Charles (ESP) saw them rise to the top of the leaderboard from a race 8 win. The Spanish could not quite break away though, with a UFD penalty in race 9 putting them on equal points with Italy's Matteo Capurro/Matteo Puppo, who took the tiebreak advantage.
Disappointment for the Spanish who thought they were clean on the start, and kept fighting through the race to finish sixth before discovering the outcome. Despite their UFD, they still hold an advantage over the other teams, as they carry only one double-digit result, whereas the surrounding teams have more.
Reflecting on their win David explained, "It was perfect wind for us, 10 knots or so, and we were going fast. We managed to be in 4th at the first mark, had good speed downwind and then edged into the lead in the second upwind."
Looking to Friday's final two races before the medal race, Alex commented, "We will try to be conservative and keep sailing as we have been. We are sailing fast and if we are not near the front by the first mark, we manage to comeback in nearly every race. The course does not give a lot of chances with the shifts, so our performance so far has all been about boat speed."
Climbing back up to a podium position are the reigning 470 Junior European silver medallists Malte Winkel/Matti Cipra whose 4,3 tally converted them to 3rd overall up from 7th at the start of the day.
Right now the leaderboard pegging is looking very similar to last year's 470 Junior Europeans in Poland, where Malte Winkel/Matti Cipra took silver and David Charles/Alex Charles the bronze medals. There is plenty of unfinished business here in the fifty-one boat 470 Men fleet and two more races on Friday to decide the top 10 teams advancing to Saturday's medal race.
470 Men – Provisional Top 5 Results after 9 Races
1. Matteo Capurro/Matteo Puppo (ITA) - 30 pts
2. David Charles/Alex Charles (ESP) - 30 pts   
3. Malte Winkel/Matti Cipra (GER) – 38 pts
4. Jose Manuel Ruiz/Fernando Davila Gamez (ESP) – 39 pts
5. Diogo Pereira/Manuel Macedo (POR) – 49 pts
470 WOMEN
Just a switch in places for the teams holding the top five positions. The leaderboard fight is unfolding to a finely balanced battle between Spain's Bàrbara Cornudella Ravetllat/Sara López and Silvia Mas/Paula Barcelo, as the lead exchanged hands today.
Two more race wins to Ravetllat/López, make it three in a row, and accelerate them into pole position, as well as marking a career best performance for the partnership. They finished 7th at the 470 Junior Worlds, so there has been a clear improvement in form.
"This is the best series we have ever put together," said Cornudella. "We have never achieved two wins in the same day, so this is really good for us."
Payback for their hard training, as López explained, "Our success has been a bit of everything. We have trained and prepared really hard, but our handicap has been our starts. Since the 470 Junior Worlds we have worked only on our starting and it took a while, but now we are on it."
"We couldn't accelerate," said Cornudella. "We just didn't have enough speed off the line. Here people are aggressive and on the line all the time, so it is difficult and we had to change our strategy."
Closing in on the leaders are the 470 Junior World Champions Benedetta di Salle/Alessandra Dubbini, scoring a solid 2,4 to hold their leaderboard third.  Tomorrow's two races will a challenge for control of the fleet.
Despite a series best score of second in race 9, Canada's Allie Surrette/Ali Ten Hove drop from 10th to 11th, and will be intent on reclaiming their top ten place tomorrow. Just two years ago they were competing at the 2013 420 Worlds and ISAF Youth Sailing World Championship, but now their focus is on securing Canada's place at the Rio 2016 Olympics.
470 Women - Provisional Top 5 Results after 9 Races
1. Bàrbara Cornudella Ravetllat/Sara López Ravetllat (ESP) - 28 pts   
2. Silvia Mas/Paula Barcelo (ESP) – 33 pts
3. Benedetta Di Salle/Alessandra Dubbini (ITA) – 35 pts
4. Maria Bozi/Rafaillina Klonaridou (GRE) – 49 pts
4. Roberta Caputo/Alice Sinno (ITA) – 52 pts
420 OPEN
Eight races down and the USA's Wiley Rogers/Jack Parkin have proven their mastery of the race track here in Bourgas. The team is managing the competition skillfully and has converted their 5 point lead from yesterday, to a 24 point lead today.
Giving it their best shot to displace them are Greece's Souzana-Ioli Bakatsia/Nikoletta Papageorgiou in second overall, with Will Logue/Bram Brakman (USA) also on the attack and matching the points score of the Greeks. On current form Rogers/ Parkin seem unstoppable and assured of gold, so the fight will be for silver and bronze.
Bakatsia/Papageorgiouhave racing together for four years, finishing fifth at the 2014 420 Ladies World Championships.
"Yes, we are doing pretty well, we didn't expect this," commented Bakatsia. "These conditions suit us. We are friends outside sailing and we have good teamwork and communication, which is why we do well."
The pair hold onto second overall, despite their worse performance of the series, a 16,33, which Papageorgiou put down to their poor starts.
The ninety boat 420 Open fleet is now split into equal fleets of 45 boats for the gold and silver six race final series. Leading the silver fleet are Portugal's Tomas Barreto/Joao Prierto.
Two races on Friday for each of the gold and silver fleets.
420 Open - Provisional Top 5 Results after 8 Races
1. Wiley Rogers/Jack Parkin (USA) - 12 pts
2. Souzana-Ioli Bakatsia/Nikoletta Papageorgiou (GRE) - 38 pts
3. Will Logue/Bram Brakman (USA) - 38 pts
4. Nitai Hasson/Tal Harari (ISR) - 20 pts
5. Rio Demi/Maria Coluzzi (ITA) - 44 pts
420 U17
Ido Bilik/Ofek Shalgi (ISR) continue to extend their lead over the rest of the thirty-four boat under 17 fleet.
No change in the next two teams, Aggelos Arvanitis/Theofanis Kanakaris (GRE) and Carlos Balaguer/Ignacio Balaguer (ESP) respectively. A win to Matteo Zerbin/Giulio Maccarone (ITA) in race 8 brings them closer to the podium places in 6th overall, but they have three Spanish teams to bypass first.
With 4 races over the next two days, it would be hard to predict the Israeli pair being shifted, but the silver and bronze places are wide open.
420 U17 - Provisional Top 5 Results after 8 Races
1. Ido Bilik/Ofek Shalgi (ISR) - 14 pts
2. Aggelos Arvanitis/Theofanis Kanakaris (GRE) – 33 pts
3. Carlos Balaguer/Ignacio Balaguer (ESP) - 35 pts
4. Albert Torres/Antoni Massanet (ESP) – 43 pts
5. Enrique Lujan/Pablo Lujan (ESP) - 43 pts
Thirty nations are competing:  Argentina, Australia, Austria, Belarus, Bulgaria, Canada, Cyprus, Finland, France, Germany, Great Britain, Greece, Hong Kong, Hungary, India, Ireland, Israel, Italy, Lithuania, Netherlands, Poland, Portugal, Russia, Singapore, Slovenia, Spain, Switzerland, Turkey, Ukraine, USA.
470.org
13 Aug 2015