SKI CLASSICS. The Swiss Engadin valley showed off its best side during todays´ La Diagonela with clear blue skies, no wind and perfect track conditions. The course of 50km had a mostly flat profile with some challenging sections, in particular the last 1.5km climb to the finish line.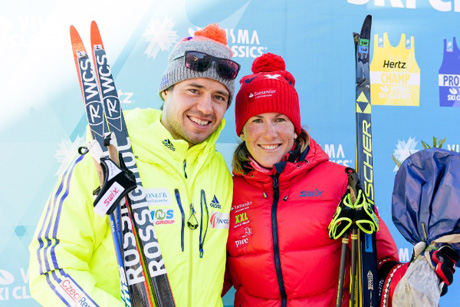 Photo: Magnus Östh / Visma Ski Classics
In the men's race a big field came into the last climb with Ilya Chernousov from Team Pioneer Investments and Tord Asle Gjerdalen, Team Santander in the front. Gjerdalen made a push in the uphill, quickly responded by Chernousov. The last steep pitch up to the finish line no one could hang on to Chernousov who took the first male Russian victory in Visma Ski Classics. Gjerdalen took the 2nd place and Øystein Petterssen was for the first time of this season up on the podium taking 3rd place.
"I'm very happy to take my first victory in Visma Ski Classics after being second at Sgambeda earlier this winter. This also feels like home as I've been living in the Engading Valley for four years" Chernousov said when interviewed.
Being 2nd in La Diagonela got Gjerdalen back in the lead of the Hertz Champion bib competition previously held by his team mate Andreas Nygaard. Instead Nygaard increased his lead in the sprint competition, same as Stian Hoelgaard from Team Lease Plan in the youth competition.
The womens´ race broke up pretty early with Katerina Smutna from Team Santander making a big push half way through as the ladies was passed by the mens´ field. Britta Johansson Norgren, Lager 157 Ski Team was the only one able to hang on to Smutna who continued to ski fast and in the last 5 km also left Johansson Norgren behind. After previous two 2nd places in a row in La Diagonela, Smutna could today step up on the top of the podium as the winner.
"Fantastic to finally win La Diagonela! It was very cold in morning but I had great skis all the way. Now I'm looking forward to Marcialonga next weekend!" Says Katerina Smutna.
In the women's Hertz Champion competition, Britta Johansson Norgren is still in the lead with Katerina Smutna closing in. Sara Lindborg, Team Serneke moved up to third place after being in the podium as 3rd finisher two events in a row. In the sprint competition, Johansson Norgren increases her lead after being first at both sprints today. Svenja Hoelzle from Team Synnfjell is still leading the youth competition, finishing 12th in todays´ race.
Top 5 Women La Diagonela 2017

1. Kateřina Smutná, Team Santander 2:20:49.2
2. Britta Johansson Norgren, Lager 157 Ski Team 2:21:52.4
3. Sara Lindborg, Team Serneke 2:25:06.6
4. Astrid Øyre Slind, Team united Bakeries 2:26:09.3
5. Emilia Lindstedt, Team Ski Pro Am 2:26:12.7

Top 5 Men La Diagonela 2017
1. Ilya Chernousov, Team Pioneer Investments 2:03:39.6
2. Tord Asle Gjerdalen , Team Santander 2:03:41.1
3. Øystein Pettersen, Team BN Bank 2:03:42.6
4. Johan Kjølstad, Team united Bakeries 2:03:42.7
5. Simen Østensen, Team BN Bank 2:03:43.9

Current standings in Visma Ski Classics competitions:
Women Champion competition presented by Hertz
1. Britta Johansson Norgren, Lager 157 Ski Team 775
2. Kateřina Smutná, Team Santander 670
3. Sara Lindborg, Team Serneke 490
4. Astrid Øyre Slind, Team United Bakeries 478
5. Heli Heiskanen, team Robinson Petshop Trainer 289

Men Champion competition presented by Hertz
1. Tord Asle Gjerdalen, Team Santander 624
2. Andreas Nygaard, Team Santander 555
3. Ilya Chernousov, Team Pioneer Investments 533
4. Stian Hoelgaard, Team Leaseplan 488
5. Johan Kjølstad, Team United Bakeries 380

Women Sprint Competition
1. Britta Johansson Norgren, Lager 157 Ski Team 140
2. Astrid Øyre Slind, Team United Bakeries 40
2. Kateřina Smutná, Team Santander 40
4. Olga Rotcheva, Russian Marathon Team 30
5. Sara Lindborg, Team Serneke 20

Men Sprint Competition
1. Andreas Nygaard, Team Santander 115
2. Anders Høst, Team Leaseplan 75
3. Markus Ottosson, Lager 157 Ski Team 71
4. Mauro Brigadoi, Team Robinson Petshop Trainer 34
5. Jens Eriksson, Team Santander 30

Women Youth Competition
1. Svenja Hoelzle, Team Synnfjell 181
2. Kristin Antonsen, Team Synnfjell 140
3. Evelina Bångman, Team Ski Pro Am 75
4. Julia Jansson, Team Serneke 66
4. Sandra Schützová, Silvini Madshus 66

Men Youth Competition
1. Stian Hoelgaard, Team Leaseplan 488
2. Oscar Persson, Lager 157 Ski Team 253
3. Bob Impola, Team Serneke 236
4. Oskar Kardin, Team Serneke 190
5. Torleif Syrstad, Team Synnfjell 184

Pro Team Competition
1. Team Santander 2284
2. Lager 157 Ski Team 1626
3. Team United Bakeries 1283
4. Team LeasePlan 1194
5. Team Serneke 958
Next weekend, Visma Ski Classics moves on to Italy and the historical Marcialonga!
For the latest news, standings and results visit www.vismaskiclassics.com. To watch previous events, videos and upcoming live events visit play.vismaskiclassics.com
Visma Ski Classics VII (2016/2017):
Event 1: 27th November Prologue Pontresina Switzerland
Event 2: 3rd December La Sgambeda Livigno Italy
Event 3: 4th January Changchun Vasaloppet China 50km
Event 4: 14th January Kaiser Maximilian Lauf Seefeld Austria 60km
Event 5: 21st January La Diagonela St Moritz Switzerland 50 km
Event 6: 29th January Marcialonga Trentino Italy 70km
Event 7: 11th February Toblach-Cortina Italy 50km
Event 8: 19th February Jizerska Padesatka Czech Republic 50km
Event 9: 5th March Vasaloppet Sweden 90km
Event 10: 18th March Birkebeinerrennet Norway 54km
Event 11: 25th March Årefjällsloppet Sweden 55 km
Event 12: 1st April Reistadløpet Bardufoss Norway 50km
Event 13: 8th April Ylläs-Levi Finland 60km
Press Release
Visma Ski Classics
Sat, January 21, 2017 4:16 pm