FREESKI. It is a premiere and at the same time it's a decisive moment: The first FIS Freeski World Cup on the Stubai Glacier is the next-to-last opportunity for the freeskiing world elite to get their FIS-points in Europe to qualify for the Olympic Winter Games in South Korea in 2018.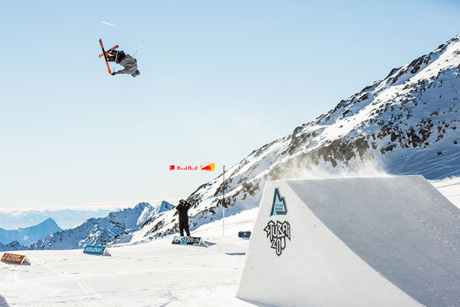 The FIS Freeski Worldcup stops on the Stubai Glacier for the first time. ©lovestormphoto
From 24 to 26 November 2017 the best freeskiers in the world will compete at a slopestyle showdown at the Stubai Zoo snow park. Approximately 120 starters from more than 20 nations are expected for the first FIS Freeski World Cup on the Stubai Glacier. Many of them want to make a dream come true and secure their qualification for the 2018 Olympic Winter Games in Pyeongchang. Moreover there is a considerable prize money of altogether 50,000 SFr, 25,000 SFr for both women and men.
As the event also has the platinum-event-status of the Association of Freeskiing Professionals (AFP), a top-class field of international starters as well as spectacular tricks are guaranteed. The first participants have now been confirmed. The Austrian and German Freeski teams and the British Park & Pipe team have already announced their arrival. The official list of starters will be confirmed by mid-October.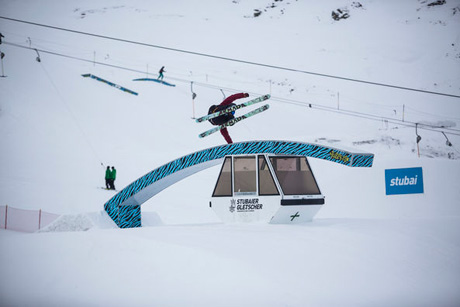 The Slopestyle-Parcour at the Snowpark Stubai Zoo will contain spectacular obstacles. ©Flo Breitenberger
Thanks to the location on the glacier at an altitude of more than 3,000m, the organizers, the Austrian Ski Federation (ÖSV) and Freeski Austria can build a competition set-up with a difference early in the season. The participants can expect a perfect slopestyle course with top-notch kickers and rails on the pro-line.
Last year a FIS Freeski European Cup event took place in the Stubai Zoo: the Stubai Freeski Open. After this successful debut, the step to the World Cup was a logical consequence. Moreover, many of the World Cup participants will refine their tricks for a perfect run for their Olympia qualification during a four-week snowboard and freeski training camp, the Stubai Prime Park Sessions. The Stubai Prime Park Sessions take place from 25 October to 22 November 2017 on the prime-line, which is specifically shaped for this event and next to the pro-line, where the World Cup is staged.
More information at www.stubaifreeskiworldcup.com
Press Release
Tourismusverband Stubai
19.10.2017