For the first time in recent years, a majority of members of the AIJS decided to elect an American ski star as the recipient of the 'Skieur d'Or- AIJS Trophy Serge Lang' Award to be presented at Soelden on Friday Oct.27th – 2017 in occasion of the Forum Alpinum to USA's wondergirl Mikaela Shiffrin.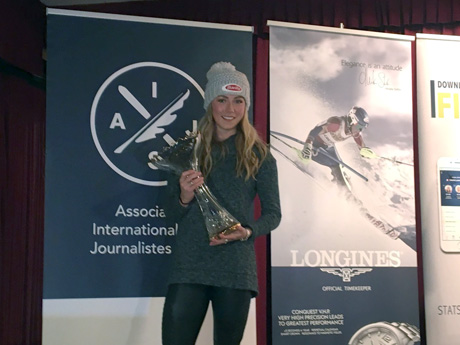 Mikaela Shiffrin with her Skieur d'Or trophy
The defending overall World Cup champion is the first US female skier to receive the esteemed crystal trophy created by Joska and handed over by FIS since the election of her teammate Lindsey Vonn back in 2009. In 2005 Bode Miller was also elected 'Skieur d'Or AIJS' by a greater part of ski writers covering the World Cup tour.
During the past four years, the charming 22-year-old athlete from Vail, Co. amassed an impressive collection of crystal trophies, gold medals at major events and victories on the World Cup tour before clinching the big crystal globe at Aspen, in March 2017. Next February she will be aiming to capture more Olympic medals in Korea in her best specialties.
Members of the International Association of the Ski Journalists also awarded many votes to last year's recipient Marcel Hirscher as well some to Beat Feuz or Ilka Stuhec.
"It's surely not a great surprise to see Mikaela getting a majority of vote considering her impressive past season marked by stunning performances in the technical events and her determination to fight all the time for victory. She is also a pleasant interlocutor for ski reporters who greatly enjoy making interesting interviews with her at various occasions. Mikaela is doing a great job to promote our sport around the globe," said AIJS Vice-President Patrick Lang in charge of the 'Skieur d'Or' for nearly two decades now.
"Everyone within the World Cup tour is impressed by her passion and her dedication for alpine ski racing. She works really very hard on and off the snow fields," added Lang. "There are only a few examples in the history of our sport of so young athletes being so focused and successful in their best events – and for several consecutive winters. I also like her readiness to take risks competing in other specialties than slalom and giant slalom to clinch again the big crystal globe, so I was very happy for her when she scored many points in the speed events at Lake Louise a year ago. She surely has so much more to achieve in her mind! We all wish her great luck for another successful season this winter and more interesting stories with her."
Winners of the AIJS Skieur d'Or – Serge Lang Trophy 2005-2016
2005 - B. Miller (USA) - 2006 - B. Raich (AUT) 2007 - A.L. Svindal (NOR) 2008 - M. Lanzinger (AUT) 2009 L. Vonn (USA) 2010 - C. Janka (SUI) 2011 - I. Kostelic (CRO) 2012 - M. Hirscher (AUT) 2013 - T. Maze (SLO) 2014 - A. Fenninger (AUT) 2015 A. Fenninger (AUT)  & M. Hirscher (AUT) – 2016 Marcel Hirscher.
FIS news
27 October 2017 17:02