ALPINE SKI. Having tested new giant slalom skis over the summer, Kjetil Jansrud can hardly wait for the start of the World Cup season on Sunday. The equipment has given the Norwegian back his joy for a discipline he used to be really good at.
"I am now having fun again skiing GS. It feels like driving a Formula One car," Jansrud told The Associated Press.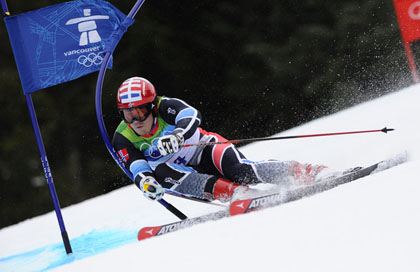 Kjetil Jansrud of Norway takes the Silver Medal during the Men's Alpine Skiing Giant Slalom on Day 12 of the 2010 Vancouver Winter Olympic Games on February 23, 2010 in Whistler Creekside, Canada. (February 22, 2010 - Photo by Alain Grosclaude/Agence Zoom/Getty Images North America)
GS became a torture to Jansrud when rules for the size and shape of the skis changed five years ago.
Once he was a leading competitor in the discipline. Jansrud won Olympic silver in 2010 and had 16 World Cup top-10 results including six podiums in 51 races. But he never got used to the altered hourglass shape of the skis introduced prior to the 2012-13 season. Since then, Jansrud has finished in the top 10 just once in 31 races.
Those skis were longer and narrower than the old ones. They had a 35- instead of 28-meter radius, meaning they made it much harder to make the turns between the gates as they required more strength and a specific technique.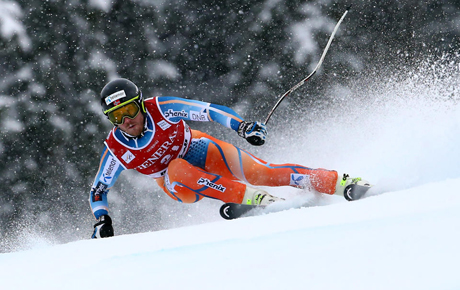 Norway's Kjetil Jansrud speeds down the slope during an alpine ski, men's World Cup super-g, in Kviitfjell, Norway, Sunday, March 2, 2014. (AP Photo/Alessandro Trovati)
Leading skiers like Bode Miller, Ted Ligety and Aksel Lund Svindal were firm opponents of the new skis, but governing body FIS cited years of scientific research into injury prevention to justify their introduction.
But as an increasing number of GS racers started suffering from back problems, FIS was forced into action again.
With another rule change taking effect this season, the radius has been reduced again to 30 metres, making the skis look quite similar to the old model from before 2012.
"It was a common decision from top racers, the industry and FIS," men's race director Markus Waldner said. "Many speed guys, also some slalom specialists, moved away from GS. But our core discipline should always be the GS. In the past, with Stephan Eberharter and Hermann Maier, speed guys were performing super well in GS. This is what we want to achieve in the future again."
Waldner, who was not yet in charge in 2012, said the scientific research that backed the previous rule change was "not enough significant."
"It is difficult to come up with really clear, transparent figures and data," he said. "We are researching especially the highest level, the World Cup. But we don't have much data on injuries on lower levels but these would give you a clear picture."
With the new skis, giant slalom will become more appealing again for Jansrud and other speed specialists, who have lost interest in the discipline in the past five seasons.
"I think it's maybe easier to go from downhill to giant slalom. So in some weeks, when we have downhills and then go to GS the next week, that is going to be an easier transition," Jansrud said.
As more downhill and super-G skiers were expected to gain points in GS again, the equipment change could also affect the competition for the overall World Cup title. Marcel Hirscher has taken that title in each of the past six seasons as the Austrian dominated the slalom and GS events.
"Of course it can change something but it is really difficult to say right now, how much and for whom," French all-event skier Alexis Pinturault said. "For a downhiller it is going to be complicated, anyway. Because now they are back in the rankings so the bib numbers are quite high for them. So it's going to be really difficult."
Jansrud, who finished runner-up to Hirscher in 2015 and again last season, also wasn't expecting a major overhaul of the rankings.
"The best guy will be going to be the best, anyway," he said. "I think you are going to see the same faces."
Eric Willemsen
The Associated Press
SOLDEN, Austria, October 27, 2017