SKI INDUSTRY. The latest huge indoor snow centre in China, which is due to have a soft opening at the end of next month, will be another of the world's largest. The Chengdu Sunac Cultural Tourism City Water and Snow World in Chengdu has been built by the company behind the world's biggest indoor snow centre in Harbin, Northeast China, and two other giant indoor snow complexes.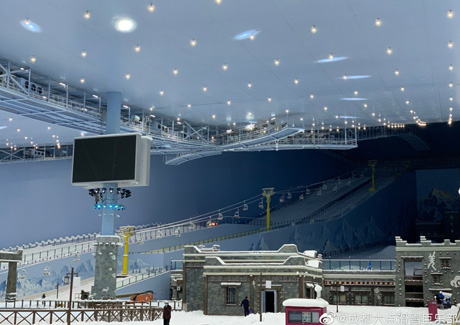 Chengdu is on the other side of the country, with a very different climate, and is the capital of southwestern China's Sichuan province.
Work on the massive facility, covering 367,600 square metres and reported to be the largest reinforced concrete structure to hold an  indoor ski resort in China, was halted during the height of the country's coronavirus pandemic, but has now resumed with social-distancing and other measures in place, and the centre is reported to have received final official permission to open.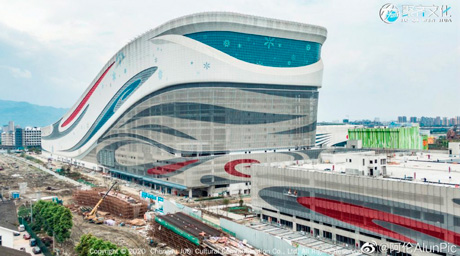 Snowmaking tests are reported to have been successful with the snow currently lying 60cm (two feet) deep.
The complex is believed to have not quite so big an indoor snow area as Harbin but unlike the northern facility, it features a large indoor water park.
It will be China's 32nd indoor snow centre.  Only two other countries, India and Japan, have ever operated more than 10 indoor snowcentres, although the height of Japan's indoor snow period was in the 1990s and there are now far fewer still open there.  Most of India's facilities are 'snow experience centres' without skiing or snowboarding.
Work on the facility, originally named 'Chengdu Wanda City' and at the time described as "China's largest cultural tourism project" officially began with a ground-breaking ceremony on September 25th, 2015.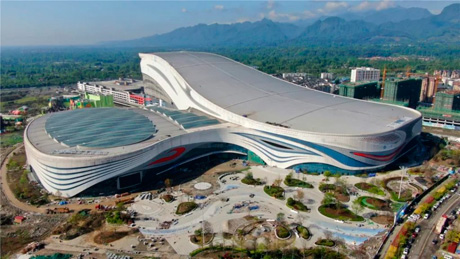 The development, originally budgeted at RMB 53 billion ($7.4 billion US / €6.9 billion) occupies a 310-hectare site in Chengdu's Binjiang Dujiangyan New District. Along with the indoor ski slope the project planned to include a shopping mall, outdoor theme park, theatre, luxury resorts, a bar street, what's described as a 'horror park' and a movie park. It's unclear how many of these facilities are included in the final version.
The indoor ski park has being described as, "the world's most advanced fourth generation facility with four ski slopes of differing gradients including a 70-metre vertical drop."
The centre is built on seven floors, two of which are underground.  The length of the longest slope is no known.
 The centre originally aimed to open at the end of 2018 and is expected to create over 30,000 jobs, attract up to 20 million annual visitors, with a capacity of 4,000 in the snow centre at any one time and generate RMB 5 billion in annual tourism revenue.
Full opening is due in September this year.
Snow-Forecast.com
12th May 2020