OLYMICS MOUNTAIN BIKE CROSS-COUNTRY XCO. Tom Pidcock (Great Britain) has soared to an emphatic victory at the 2020 Tokyo Olympics men's cross country race, beating more-fancied rivals including Nino Schurter and Mathias Flueckiger (Switzerland) and capping an incredible recovery from injury.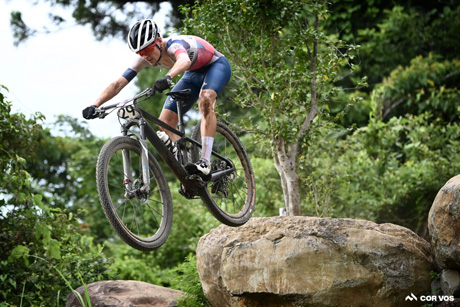 Thomas Pidcock of Great Britain pictured during Tokyo 2020 Olympics - 26/07/2021 - Cycling Mountain Bike, Men's Cross-country Race - Izu MTB Course, Izu, Japan - - photo Alex Broadway/SWpix/Cor Vos © 2021
In early June, Pidcock – who is a multi-disciplinary prodigy racing cyclocross as well as on the road for Team Ineos – crashed into a car in training, breaking his collarbone and ending up in surgery to get back in time for the Olympics.
In late July, he showed his recovery was complete, taking a dominant win. 30 seconds behind him, Flueckiger picked up a silver medal, with David Valero Serrano (Spain) in third, Nino Schurter finishing just outside the medals, and Mathieu Van der Poel crashing out of contention the first lap.
How it happened
The highly anticipated men's cross country mountain bike race began with a couple of key questions hanging over it. Would Mathieu Van der Poel (Netherlands) go from Tour de France yellow to Olympic gold? Could Tom Pidcock (Great Britain) continue his impressive cross-disciplinary season, mere weeks after shattering his collarbone into five pieces in a collision with a car? Would Swiss legend Nino Schurter defend his 2016 win? Could form rider of the season, Mathias Flueckiger, make a play for Olympic glory?
At Izu mountain bike course, it was time to find out the answers to those questions, and maybe a few more.
Conditions were dusty and humid, with temperatures hovering in the high 20s, as the riders set off for seven laps of the technical 4,100 m course.

A fast and furious start to the men's mountain bike race. - - photo Alex Broadway/SWpix/Cor Vos © 2021
It was explosive from the gun with Pidcock the best of the road 'slashies', sitting in fourth early on. Henrique Avancini (Brazil) led the race through the opening lap, with Schurter and Mathias Flueckiger (both Switzerland) up in the mix, Mathieu Van der Poel not far behind, and New Zealand's Anton Cooper also hovering in the top 10.
Disaster struck on the first lap for Van der Poel. On the Sakura Drop course feature, the Dutch star misjudged the landing and was sent flying over his handlebars, landing hard on his back, with Tom Pidcock narrowly missing getting brought down as well.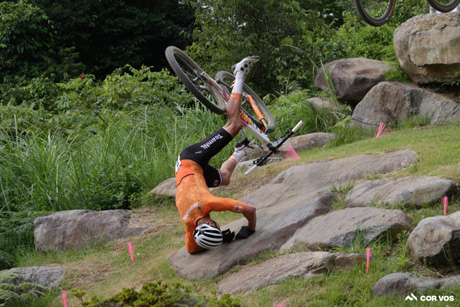 Van der Poel going down - - photo Alex Broadway/SWpix/Cor Vos © 2021
Van der Poel sat off the side of the course wincing, nursing his ribs, before getting back on the bike having lost around a minute.
After two laps, Pidcock had moved up to second, the meat in a Swiss sandwich between Flueckiger and Schurter. A small group of five formed off the front, with Anton Cooper and Ondrej Cink (Czech Republic) bringing up the back of the pack.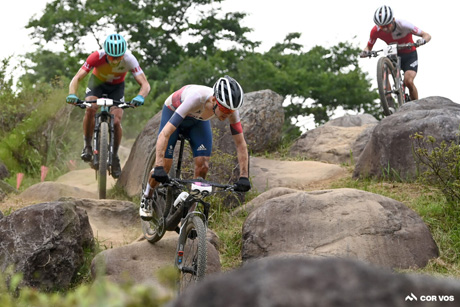 Pidcock leads Nino Schurter and Mathias Flueckiger on lap three. Schurter would miss the podium to finish fourth, while Flueckiger would end up with silver
Pidcock launched a stinging acceleration on the third lap, attacking the two Swiss riders and moving to the front after 32 minutes of racing. He was unable to open a decisive gap, and as the leading pack crossed the line to begin lap four, an uneasy equilibrium returned.
On a steep climb soon after, the compact, powerful Pidcock attacked again, opening a four second gap to Flueckiger in second, with Nino Schurter losing ground fast.
50 minutes in, Pidcock had a growing gap on Flueckiger but the Swiss rider was still in striking distance. Schurter, meanwhile, was some way back, seemingly engaged in a race for bronze with Cooper and Victor Koretzky (France). Van der Poel battled on, but having lost almost two minutes, any hope of a medal had evaporated.
The gap hovered between Pidcock and Flueckiger hovered around five seconds until midway through the fifth lap, when Flueckiger lost momentum on a steep climb and was forced to dismount to run to the crest, opening Pidcock's advantage to 15 seconds. Meanwhile, Cooper moved ahead of Schurter into third.
An hour in, Pidcock's win seemed increasingly assured, with the 21-year-old needing only to ride clean lines and keep it rubber side down. On the opposite side of the coin, his key rival pre-race, Mathieu Van der Poel, withdrew from the race through the pits on his fifth lap, limping into the marquee and grimacing in pain.
While Pidcock continued to build his advantage, the battle for third continued to heat up. Ondrej Cink worked his way back to the Cooper/Koretzky/Schurter group and then blew past them, but cruelly flatted soon after and was left to walk his way back to the pits ruing what could have been.
By the final lap, Pidcock had 17 seconds on Flueckiger, and Pidcock continued on his way, composed and smooth on the approach to the line. He grabbed a flag on the finishing straight, holding it aloft as he celebrated a staggering victory.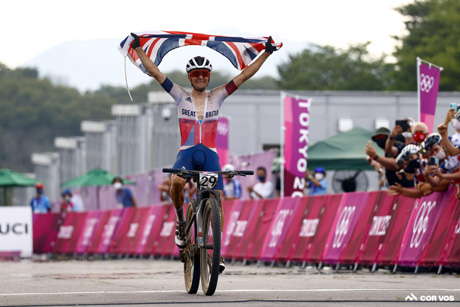 Winners are grinners - - photo Alex Broadway/SWpix/Cor Vos © 2021
Flueckiger took silver, 20 seconds back, with a late charge from David Valero Serrano (Spain) snatching the bronze medal. Nino Schurter was just out of the medals, finishing in fourth.
by Iain Treloar
cyclingtips.com
July 26, 2021