ASPEN –The FIS made a decision last spring to inject all women's technical courses this season. It most likely is a mistake. Unfortunately for the women's slalom here, an amalgamation of a high pressure system, cold temperatures and injection combined to create an exceptionally slick surface. The first run result was mayhem as 24 racers failed to make it to the finish, one third of the field. As athlete after athlete slid, somersaulted or just skied off course, fans resorted to cheering racers just for finishing. It wasn't a pretty sight for either fans or the television audience.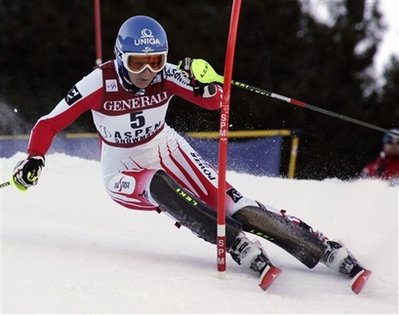 Austria's Marlies Schild skis past a gate in the second run on her way to a second-place finish in the women's World Cup slalom Sunday, Nov. 29, 2009, in Aspen, Colo. (AP Photo/Nathan Bilow)
First let's set one thing straight. This was NOT the fault of the Aspen organizing committee. They simply carried out the preparation as the FIS directed, in this case the women's technical director, Markus Mayr. What the FIS and Mayr found out was the outcome of injection at 8,000 feet with low humidity is far from an exact science.
"It was too icy," emphatically said Atle Skaardal, chief race director of the women's circuit of the first course.
In defense of the decision, injection offers more flexibility and in most cases a fairer surface. It is a must for men's technical racing as their strength ruts a course early on making it impossible for later starters to have a chance at a second run. The same is not as true for women which is why coaches and racers are questioning the injection dictate.
On Aspen's Ruthies Run, which is steep with break overs, injecting makes an already tough course all the more difficult.
"It is not the answer," said Patrick Riml, head coach of the Canadian women's team and former head coach of the U.S. woman's squad. "Look," he added, "Today we could have raced on the pure manmade surface Aspen put down without any difficulty, but that is today."
Riml pointed out that one impediment with using non-injected manmade snow comes with natural snow falling on it. "That can be messy and make the surface dangerous," he said. "If the surface is injected, it is much easier to move the new snow off and have a good surface."
Injection has spawned other concerns, primarily about injuries and bodily wear and tear. During the giant slalom, Denise Karbon, who won the title last season, came up limping with a torn meniscus after a ninth-place effort on a rock-hard Ruthies Run. There was no fall, no strange turn but the damage was done. One can't blame the injected surface outright but it raises questions.
"You needed a serrated edge," commented Thomas Vonn, husband of superstar Lindsey, who skied out, but not because of the ice. "I think they are hurting the sport by preparing courses like this. It is not about who is skiing fast, it is about who is screwing up the least. That is pond ice up there. This is alpine skiing, not skating."
Vonn, too, worries about injury or nagging health difficulties. "You have to train on ice to race on ice. It just wears you down."
Another factor is the skis and plate set ups the athletes are using in slalom. The Austrians were venting over the combination of sharp turning skis and ice, saying the combination can be terribly dangerous. The Austrian team lost Alexandra Daum most likely for the season with a torn ACL after a sharp fall where ice was a contributing factor.
Skaardal knows the concern and worries. You can see it in his face when he discusses the race conditions. He is not ready to talk about what the next step will be, but you come away with the impression things will change. They have too. Woman's ski racing is struggling for television time and attention. It doesn't help to have them looking like duffers on too slick a course. And it doesn't help when superstars look less than super.
There may be places for injection, but it shouldn't be mandatory. Women's World Cup racing will be better served with a flexible policy not water in the snow. Use injection as a tool where needed only.
G.B. Jr
Ski Racing Magazine www.skiracing.com
30/11/2009