INDUSTRY AND TOURISM. Mr Wolfgang Eder, one of the participants in the Forum of Austrian firms "Trade Mission Travel - Tourism Infrastructure", which took place on 26th and May 27th, 2010 in Sofia and Pomorie and was organized by the Austrian Foreign Trade Organization ADVANTAGE AUSTRIA in cooperation with the commercial department of the Austrian Embassy in Bulgaria, was kind enough to spend some time for an exclusive interview with the uniqueBulgarian online resource for ski sport and industry WWW.SKI.BG.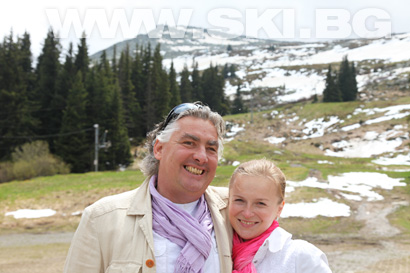 Mr Wolfgang Eder and Ms. Anastasia Silvestrova from WEC - Wolfgang Eder Consulting GmbH & Co KG
Mr. Eder is the founder and owner of the Austrian consulting company WEC - Wolfgang Eder Consulting GmbH & Co KG, which operates in the winter, summer and year-round tourism and infrastructure development. During the two-week visit to Bulgaria in late May and early June, Mr. Eder, visit our most significant mountain and sea resorts and impressions gathered by the current state and opportunities for their development. Представяме ви първата част от интервюто с г-н Волфганг Едер. We present the first part of the interview with Mr Wolfgang Eder.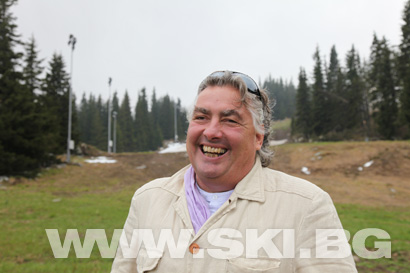 Mr. Eder, has this trip been your first travel through Bulgaria visiting tourism resorts, what are your impressions?
- Yes, except one short trip long time ago the first time. To cut the long story short: We have seen very interesting, sometimes even impressive resorts and chances for development and some times we have seen things you really do not want to see!
Your opinion about the chances for development of winter tourism in Bulgaria after having seen most of the existing resorts?
- In general there are for sure a lot of realistic possibilities for interesting and international competitive development. From my point of view I have to say - at the moment the development is driven too much by real estate interests, it is not - or not enough tourism development! In the mountains as well down at the wonderful Black sea coast there is an incredible amount of beds and I really don't know who should stay there for vacation or who should buy all these apartments!
Overdeveloped?
- Yes and no! Overdeveloped yes, while having 70km of slopes and I don't know exactly - lets say at least around 80.000 beds in the region - this is what I call overdevelopment driven by other interests than touristic ones!!
No regarding tourism infrastructure in the mountain resorts! Not only for winter, for summer as well! There is a big gap between the long term possibilities, the actual needs and the present situation and offer to the tourists ! Many times old lifts and infrastructure, hotels , restaurants with incredible charm from the 60's - this you cannot sell to the international market and not to the local market - skiers and tourists in and from Bulgaria do know exactly the international state of the art regarding ski - and mountain resorts ! And you need additional infrastructure for the summer to attract people for alpine summer vacation, to create income throughout the year, offer all year round jobs and develop roads, water- and dewater systems etc.!
Did you visit Sofia and Vitosha mountain?
- Absolutely impressive!!! The potential, not the situation! There are only a few cities in the world with a ski & mountain resort directly at the city! But what we have seen up there describes the sometimes really absurd situation: first of all great and beautiful nature and potential for skiing and recreation, second more or less old and/or destroyed infrastructure. Third: a scaring situation regarding pollution leading to cutting lots of trees. Fourth: green movement and/or bureaucracy preventing cutting trees or moving rocks for new infrastructure, slopes and lifts etc. Fifth: there is an investor , willing to invest, but everything stays as it was, as it is – and it is terrible – even under ecological aspects – no new wastewater system, new infrastructure not contaminating nature with oil!! Sorry to say as a foreigner, but it looks like ecological efforts are stopping ecological progress!!!
Is this situation comparable to Austria?
- It reminds me to the situation in Austria – thanks good – more than twenty years ago! Now everybody – more or less – has accepted and is understanding that tourism is a green business – and this is in its own interest! We have to provide nature, take intensive care because it is our main capital we are living on – beside infrastructure, service etc.!
Vitosha could be a wonderful place for the local people and for international tourists, it could be a landmark for alpine tourism in Bulgaria ! Each and every hut up in the mountains in Austria has a dewatering system, snowmaking is using limited amount of drinking water etc. – Tourism is a green business in Austria!
You are talking about international market and potential...
- Yes, Bansko with its WC races is already international well known, but there is much more potential for the international market already for resorts like Borovets, Plovdiv and new projects !
We are working in many international projects in the Alps, the Carpats etc., but the potential in Bulgaria is enormous – only using few parts of the mountains for the people living there and going there! For example the combination of health and all year round sport and leisure could be a very interesting segment! This combination – for example in and around Velingrad - will be interesting for international investors as well , but therefore you need to have a wider understanding and common sense about the chances tourism business is offering to the local people and their business - not only to the big investors!
Mr. Eder, you are thinking about offering an international forum and conference to the Bulgarian tourism business...
- Yes, we organized already some conferences in Vienna, this year in Ukraine etc. .We are thinking about coming to Bulgaria in November , having an interesting discussion between international experts, potential partners and the Bulgarian tourism experts , hoteliers etc...
I am really impressed about the potential of Bulgarian alpine tourism and so we are ready to talk about the possibilities cooperating in developing this future oriented potential in Bulgaria and telling it to the investors and skier markets in Europe!!!
SKI.BG
12 of July, 2010
Photography from Mr. Wolfgang Eder's tour in Bulgaria by the invitation and with support of WWW.SKI.BG follows, photography © Vladislav Georgiev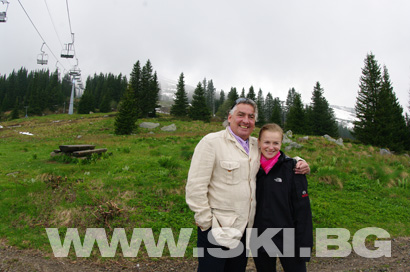 Mecha Polyana, a ski area Aleko, Vitosha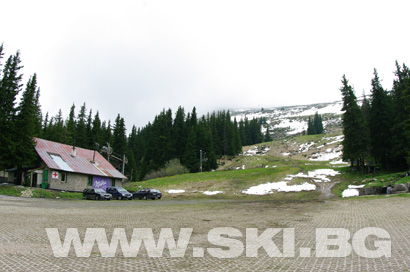 Platz in front of chalet Aleko and ski slope "The Wall - Rabbit", Vitosha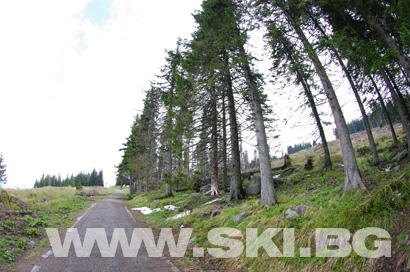 Road to Mecha Polyana, Vitosha, and huge areas coniferous forests in the area felled because of bug woodworms (Ips typographus L.).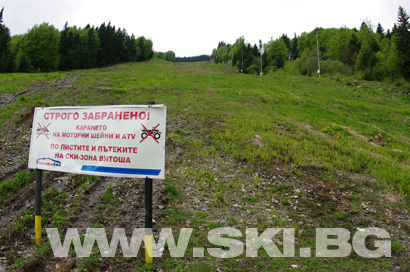 The final of ski track Vitoshko lale (Vitosha's Tulip), Vitosha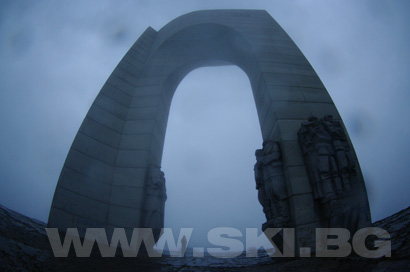 The monument on top Goraltepe, Troyan's Pass (Beklemeto), between Troyan and Karnare, Central Stara Planina (Balkan mauntain)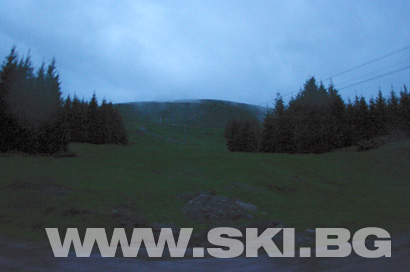 The slope of ski center Beklemeto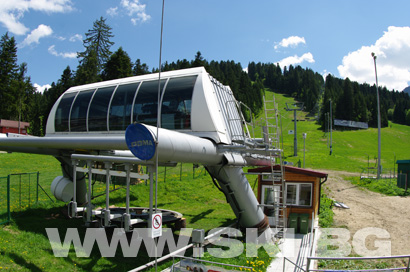 Lift Martinovi barracks and platz Borosport in front of Rila hotel, ski center Sitnyakovo, Borovets ski area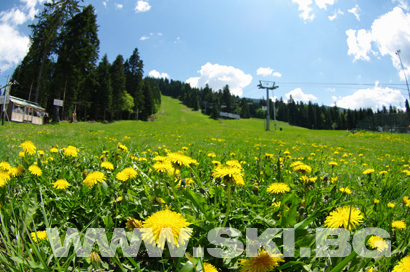 Ski slope Martinovi barracks 1 and platz Borosport in front of hotel Rila, ski center Sitnyakovo, Borovets ski area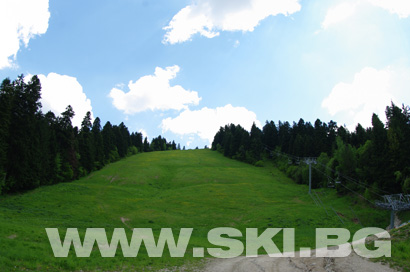 Track Cherveno zname (Red Flag) and lift Sitnyakovo Express, ski center Sitnyakovo, Borovets ski area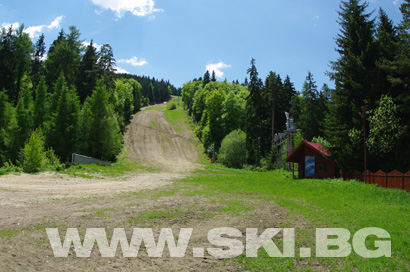 Track Yastrebets 3, ski center Yastrebets, Borovets ski area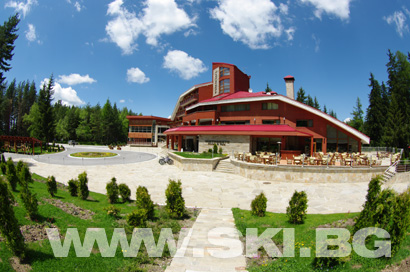 Fully reinovated Hotel Yastrebets, ski center Yastrebets, Borovets ski area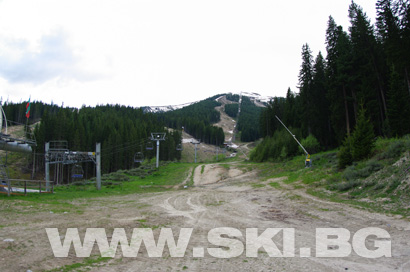 Track Todorka, Shiligarnika, ski zone Bansko, Pirin Mountains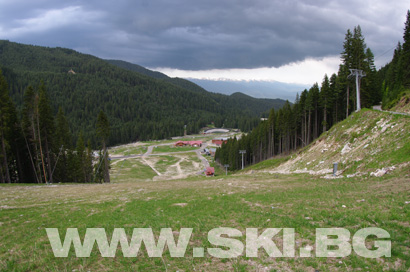 Meadow "Banderishka polyana" and ski run "Banderitsa - Alberto Tomba", skiing area of Bansko, Pirin Mountains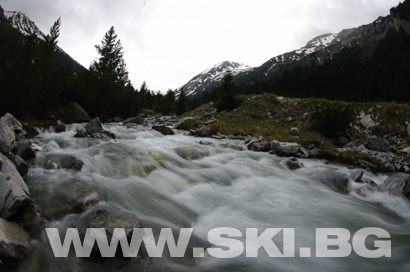 River Bunderitsa, Pirin Mountains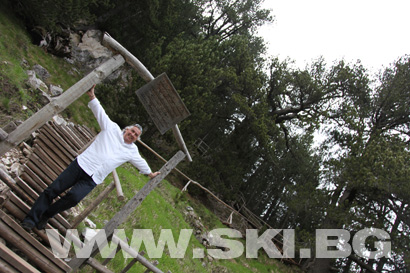 Speaking white fir "Baykushevata mura" - one of the oldest conifers in the world with over 1300 years, Banderishka Valley, Pirin Mountain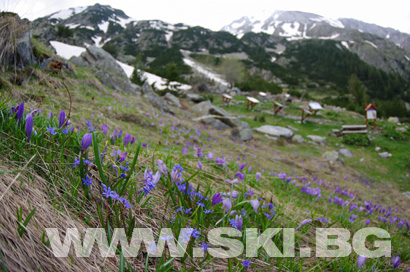 Look at Vihren top from hut Vihren, Pirin Mountains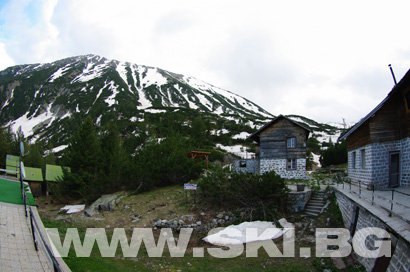 View from hut Vihren to the western slopes of Todorka top, Pirin Mountains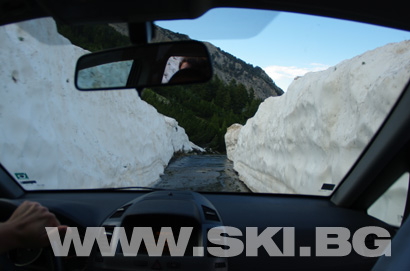 Cut in snow avalanche path between hut Vihren and hut Bunderitsa remaining from the slide of the largest avalanche in the Balkans and kept to the start of summer, Banderishka Valley, Pirin Mountain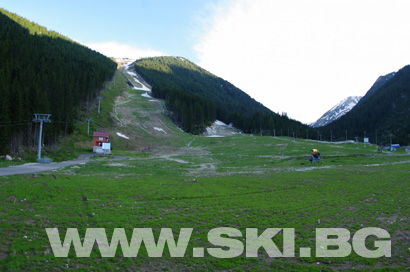 Ski slope "Bunderitsa - Alberto Tomba" and Platz "Banderishka Polyana", ski zone Bansko, Pirin Mountains
***
WEC - Wolfgang Eder Consulting GmbH & Co KG
LAKES & MOUNTAINS Design of ski resorts & tourism
WEC WOLFGANG EDER CONSULTING GMBH & CO KG
The company was founded in 2000 with main business of winter tourism and infrastructure development. Since 2005, deals with the design, construction and management of all-year ski areas and resorts, hotels in Ukraine, Russia, Austria, Croatia and others. Specialized in the preparation of feasibility studies, general and business plans, concepts of restructuring and marketing concepts for regions, infrastructure and tourism enterprises and in providing assistance in project financing and financial assistance, conducting workshops and training for managers and employees.
More information: www.lakesmountains.com