GAP 2011. The slalom qualification race for the men's World Championships slalom on Saturday was held on Horn/Hausberg where the Russian skier Alexander Khoroshilov put down the fastest total time in 1:41.62. Georgi Georgiev of Bulgaria came in second, .20 seconds behind and Marcus Sandell of Finland was stopped with the third fastest time, .79 seconds behind the winning-pace.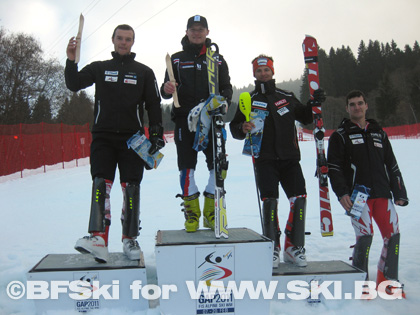 GAP 2011 Slalom Qualifier - Podium, photo BFSki
The start list was extended from 50 starters to 70 starters after the qualification. There were 20 qualification winners, who will be allowed to start in the men's FIS Alpine World Ski Championships slalom on Sunday.
FISalpine.com
Saturday 19 February 2011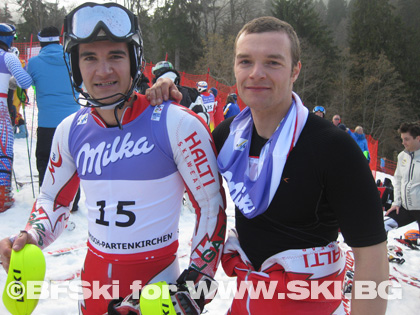 Georgi Georgiev and Nikola Chongariv, photo BFSki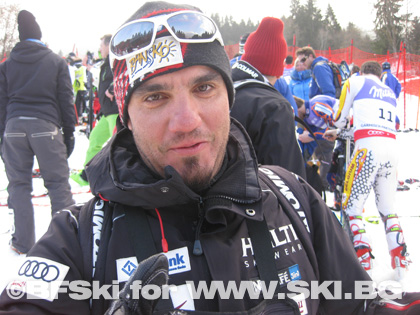 Bulgarian Head Coach Grega Kostumaj, photo BFSki
Place   Garmisch-Partenkirchen
(GER)   Discipline   Slalom
Date   19.02.2011   Category   FIS Race
Race codex   0077   Gender   M
Valid for FIS Points   YES   TD Name   Stocker Rudolf (AUT)
Rank Bib FIS Code Name Year Nation Run 1 Run 2 Total Time FIS Points
 1  2  480736 KHOROSHILOV Alexander  1984  RUS   50.43  51.19  1:41.62  14.51
 2  8  90131 GEORGIEV Georgi  1987  BUL   50.61  51.21  1:41.82  15.71
 3  7  180534 SANDELL Marcus  1987  FIN   50.66  51.95  1:42.61  20.45
 4  15  92534 CHONGAROV Nikola  1989  BUL   50.93  52.17  1:43.10  23.39
 5  18  202437 LUITZ Stefan  1992  GER   51.16  51.97  1:43.13  23.57
 6  3  302982 OHKOSHI Ryunosuke  1988  JPN   51.87  52.01  1:43.88  28.08
 7  5  220689 RYDING David  1986  GBR   51.37  52.67  1:44.04  29.04
 8  16  400163 ROOIJ VAN Joery  1986  NED   51.40  52.68  1:44.08  29.28
 9  28  430429 BYDLINSKI Maciej  1988  POL   52.03  52.08  1:44.11  29.46
 10  14  320244 KIM Woo-Sung  1986  KOR   52.49  51.65  1:44.14  29.64
 11  6  320293 KYUNG Sung-Hyun  1990  KOR   51.51  52.71  1:44.22  30.12
 12  10  481006 ZUEV Stepan  1988  RUS   51.91  52.41  1:44.32  30.72
 13  20  180703 PALONIEMI Santeri  1993  FIN   52.16  52.18  1:44.34  30.84
 14  47  680047 BENIAIDZE Alex  1991  GEO   52.74  51.92  1:44.66  32.76
 15  11  60088 VAN DEN BOGAERT Jeroen  1979  BEL   51.77  53.13  1:44.90  34.20
 16  25  370022 JENOT Olivier  1988  MON   52.43  52.51  1:44.94  34.44
 17  4  700830 ZAMPA Adam  1990  SVK   51.92  53.08  1:45.00  34.80
 18  24  700724 BABUSIAK Jaroslav  1984  SVK   52.39  52.62  1:45.01  34.86
 19  1  30149 SIMARI BIRKNER Cristian Javier  1980  ARG   52.18  52.90  1:45.08  35.28
 20  33  410266 GRIFFIN Benjamin  1986  NZE   53.05  52.05  1:45.10  35.40
 20  26  30266 GASTALDI Sebastiano  1991  ARG   53.19  51.91  1:45.10  35.40
 22  32  380335 ZUBCIC Filip  1993  CRO   52.45  52.76  1:45.21  36.06
 23  27  20174 VIDOSA Roger  1984  AND   52.90  52.35  1:45.25  36.30
 24  40  460040 NAN Ioan-Gabriel  1980  ROU   53.15  52.12  1:45.27  36.42
 25  9  60160 ALAERTS Kai  1989  BEL   52.41  52.96  1:45.37  37.02
 26  13  40349 RISHWORTH Mike  1987  AUS   52.54  52.92  1:45.46  37.56
 27  22  40332 STEVENS Hugh  1986  AUS   52.86  52.89  1:45.75  39.30
 28  12  60015 MOLLIN Bart  1981  BEL   53.31  52.49  1:45.80  39.60
 29  31  491356 CARRERAS Pol  1990  SPA   53.23  52.88  1:46.11  41.46
 30  34  350086 HEEB Simon  1991  LIE   53.81  52.95  1:46.76  45.36
 31  43  380334 VIDOVIC Matej  1993  CRO   53.42  53.38  1:46.80  45.60
 32  46  400237 MEINERS Maarten  1992  NED   52.86  54.45  1:47.31  48.67
 33  55  350095 PFIFFNER Marco  1994  LIE   53.35  54.16  1:47.51  49.87
 34  35  750088 RISTEVSKI Antonio  1989  MKD   53.44  54.72  1:48.16  53.77
 35  63  350088 OEHRI Josef  1991  LIE   54.45  53.96  1:48.41  55.27
 36  62  430472 KLUSAK Michal  1990  POL   54.32  54.27  1:48.59  56.35
 37  54  860005 BRACHNER Patrick  1992  AZE   53.75  55.21  1:48.96  58.57
 38  60  750089 DEHARI Dardan  1990  MKD   53.94  55.39  1:49.33  60.79
 39  23  260097 SAVEH SHEMSHAKI Porya  1987  IRA   54.80  54.73  1:49.53  61.99
 40  125  910003 LINDNER Georg  1983  MDA   56.46  55.56  1:52.02  76.94
 41  61  80063 LONGHI Jhonatan  1988  BRA   55.53  56.78  1:52.31  78.68
 42  72  780002 RUMIANCEV Vitalij  1985  LTU   56.06  57.27  1:53.33  84.80
 43  73  680054 GEDEVANISHVILI Dimitri  1993  GEO   56.62  56.89  1:53.51  85.88
 44  67  170136 VIAL Christian  1984  DAN   56.54  57.01  1:53.55  86.12
 45  66  240122 SZEPESI Bertold  1990  HUN   56.01  57.98  1:53.99  88.76
 46  88  520100 SIMSEK Emre  1987  TUR   57.73  57.68  1:55.41  97.29
 47  58  310388 KOSIC Bojan  1990  MNE   57.49  58.55  1:56.04  101.07
 48  95  240139 KEKESI Marton  1995  HUN   58.85  1:00.19  1:59.04  119.08
 49  75  230353 KARAMANIDIS Chrysostomos  1990  GRE   58.52  1:00.76  1:59.28  120.52
 50  92  660015 MAZALEUSKI Siarhei  1992  BLR   58.84  1:00.46  1:59.30  120.64
 51  89  950000 OETTL REYES Manfred  1993  PER   59.30  1:00.37  1:59.67  122.86
 52  86  740022 NERSISYAN Arsen  1987  ARM   59.73  1:01.59  2:01.32  132.76
 53  97  660019 DUS Evgeny  1992  BLR   1:00.13  1:01.51  2:01.64  134.69
 54  113  170106 DAMGAARD Kristian-Lyhne  1987  DAN   1:00.36  1:01.41  2:01.77  135.47
 55  84  210032 VORONOV Artem  1993  UZB   1:00.41  1:01.55  2:01.96  136.61
 56  76  120047 ZHANG Yuxin  1989  CHN   1:01.56  1:00.92  2:02.48  139.73
 57  105  240084 VINCZE Akos  1978  HUN   1:00.77  1:01.85  2:02.62  140.57
 58  98  210024 BABIKOV Dmitriy  1990  UZB   1:02.35  1:03.29  2:05.64  158.70
 59  109  170114 STENE Nils-Henrik  1988  DAN   1:03.11  1:04.64  2:07.75  171.36
 60  45  230189 BONOU Nikos  1986  GRE   53.85  1:15.43  2:09.28  180.55
 61  104  540001 VON HOHENLOHE Hubertus  1959  MEX   1:05.53  1:06.59  2:12.12  197.59
 62  112  740028 MANUKYAN Yura  1991  ARM   1:05.88  1:07.53  2:13.41  205.34
 63  116  360034 GIRST Patrick  1989  LUX   1:06.96  1:06.87  2:13.83  207.86
 64  114  740030 GHAZARYAN Arsen  1992  ARM   1:10.24  1:04.05  2:14.29  210.62
 65  127  770004 TRELEVSKI Andrey  1979  KGZ   1:07.38  1:09.74  2:17.12  227.61
 66  108  340154 FENIANOS Tarek  1990  LIB   1:09.31  1:12.32  2:21.63  254.68
 67  121  740029 KHACHATRYAN Davit  1992  ARM   1:12.63  1:13.10  2:25.73  279.29
 68  122  941000 NKRUMAH-ACHEAMPONG Kwame  1974  GHA   1:13.40  1:13.70  2:27.10  287.52
 69  126  570017 DYWILI Tsotane  1992  RSA   1:13.70  1:15.71  2:29.41  301.38
 70  124  921000 ROY Jean-Pierre  1963  HAI   1:24.14  1:31.03  2:55.17  456.01
Disqualified 2nd run
   83  550058 BRISHKA Roberts  1993  LAT         
   78  690067 DOLGYY Sergiy  1984  UKR         
   57  660021 DANILOCHKIN Yuri  1991  BLR         
Disqualified 1st run
   79  570012 HEATH Alexander  1978  RSA         
   48  230192 TSAKNAKIS Alexandros  1986  GRE         
   17  700851 SIRAN Vladimir  1991  SVK         
Did not start 2nd run
   41  40474 POCCARD Marc  1989  AUS         
Did not start 1st run
   118  770011 TRELEVSKI Dmitry  1983  KGZ         
Did not finish 2nd run
   128  590035 GONCALVES Jorge  1968  POR         
   120  590033 MARQUES Joao-Miguel  1992  POR         
   117  360035 TRIERWEILER Ben  1988  LUX         
   115  240140 HALMAGYI Zoltan  1995  HUN         
   111  570015 SCOTT Peter  1990  RSA         
   110  170126 MADSEN Nicolai  1991  DAN         
   107  270053 LYONS Simon  1993  IRE         
   106  280027 BARNETZ Niv  1994  ISR         
   103  80062 SETUBAL Paulo E.  1988  BRA         
   102  270045 MCKELVEY Nicholas  1991  IRE         
   101  210020 EGEMBERDIEV Safar  1986  UZB         
   99  270040 MC SHERA Shane  1990  IRE         
   96  270055 LYNE Conor  1993  IRE         
   94  120048 HUANG Haibin  1990  CHN         
   93  80068 GUGLIELMINI Fabio  1994  BRA         
   91  550049 BLUMS Kristaps  1992  LAT         
   85  310403 MINIC Mladen  1993  MNE         
   82  110320 CLARO Eugenio  1993  CHI         
   81  280030 VANDEPUT Virgile  1994  ISR         
   77  160091 PAPAMICHAEL Constantinos  1993  CYP         
   71  520082 TURKSEVER Erdinc  1985  TUR         
   64  40543 BROWN Callum  1994  AUS         
   53  680045 VAKHTANGISHVILI Kote  1991  GEO         
   51  670052 KHUBER Martin  1992  KAZ         
   50  700843 KUTLIK Matej  1991  SVK         
   49  710311 RUDIC Marko  1990  BIH         
   44  260110 KIYA DARBANDSARI Mohammad  1989  IRA         
   39  460060 BARBU Alexandru  1987  ROU         
   38  260084 TIR Omid  1984  IRA         
   36  410270 CAFE Tim  1987  NZE         
   30  250272 HALLDORSSON Gunnar-Thor  1990  ISL         
   29  260079 SAVEH SHEMSHAKI Hossein  1985  IRA         
   21  680041 ABRAMASHVILI Iason  1988  GEO         
   19  250259 GUDMUNDSSON Brynjar-Jokull  1989  ISL         
Did not finish 1st run
   130  770015 TIMOFEEV Evgeniy  1994  KGZ         
   129  570018 SPEELMAN Sive  1995  RSA         
   123  620058 THAKUR Rajat  1994  IND         
   119  770012 BORISOV Ivan  1979  KGZ         
   100  110269 CARVALLO Nicolas  1991  CHI         
   90  120035 LI Lei  1987  CHN         
   87  110294 ECHEVERRIA Jose Tomas  1992  CHI         
   80  120037 TIAN Yuheng  1985  CHN         
   74  30283 FREEMAN CRESPO Ignacio  1992  ARG         
   70  690672 TELYCHUK Vasyl  1992  UKR         
   69  550038 DAUGULIS Kaspars  1989  LAT         
   68  690086 FESHCHUK Rostyslav  1990  UKR         
   65  690036 VAKHNENKO Igor  1981  UKR         
   59  110266 ANGUITA Martin  1991  CHI         
   56  350087 KINDLE Nicola  1991  LIE         
   52  250292 HALLDORSSON Sigurgeir  1991  ISL         
   42  60198 VAN DEN BROECKE Robin  1992  BEL         
   37  550054 ZVEJNIEKS Kristaps  1992  LAT