A total of 24 international stars of world sport will gather to form this year's Star Team For the Children (STFC) - a noble initiative launched back in 1993 by the H.E.H. Prince Albert II of Monaco. All they will compete against each other for a noble cause: raising money to help underprivileged children worldwide.
Organised by the Association of Monaco Foundations, founded and chaired by Prince Albert II, the World Ski Event is a charity event at which celebrities from sports and show-biz compete against each other to raise funds for underprivileged children worldwide. This noble initiative chose Bansko to be the host of this year's event. For the first time this year this noble cause will be supported by the Bulgarian sport legends Stefka Kostadinova, Hristo Stoichkov, Katia Dafovska, Peter Popangelov and Irina Nikulchina. The event organizers offer an extraordinary surprise – on site, but not skiing, will be the star of the Bulgarian and World football - Dimitar Berbatov.
Charity race Competitors - Star Team For the Children
1. H.E.H. Prince Albert II
2. Hermann Maier, Olympics and world champion, Alpine ski
3. Jure Kosir, Alpine ski champion
4. Pierre Chasiragi
5. Bruno Kernen, world champion in alpine skiing
6. Ari Vatanen, winner in the World Rally Championship
7. Max Vatanen, rally
8. Frederick Caviti, world champion in slalom
9. Claudio Chiapucci, cycling champion, 2nd in the Tour de France
10. Ricardo Patrese, Formula 1, winner in 6 Grand Prix
11. Peter Popangelov, the most acclaimed Bulgarian skier
12. Barbara Merlin, Alpine skier
13. Peter Rungaldier, Alpine ski
14. Sandrine Balli, world champion in biathlon
15. Emanuele Piro, Formula 1, multiple winner of 24 Hours of Le Mans
16. Pernilla Wiberg, World and Olympic champion, Alpine ski
18. Marc Girardelli, multiple Overall World Cup winner, Alpine ski
19. Stefka Kostadinova, world and Olympic champion, athletics
20. Hristo Stoichkov, football, won the Golden Globe
21. Mauro Serra
22. Sergey Penev, Ambassador of Principality of Monaco in Bulgaria
23. Katia Dafovska, Olympic champion in biathlon
24. Irina Nikulchina, Olympic medalist in biathlon
The currently best Bulgarian Football Player and the star of FC Manchester United, Dimitar Berbatov, will be a high profile guest of the event, without taking part at the ski race.
World ski Event Schedule
March 26th, Banderishka meadow and ski slope "Banderitsa - Alberto Tomba"
09:30 am - Training and track inspection 10:30 am - Parallel Slalom 15:00 pm - Race biathlon at the Stadium 16:00 pm – Winner awarding ceremony
See you soon in Bansko!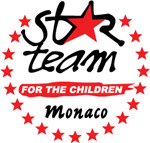 ***
Банско ще е домакин на World Ski Event 2011
Н.В. Принц Албер II и Димитър Бербатов ще получат почетния знак на Банско
България в лицето на курорта Банско ще бъде домакин на шестото благотворително състезание по ски и биатлон World Ski Event 2011 с участието на членове от звездния отбор към благотворителната организация на Негово Височество Принца на Монако Албер II - A. S. Star Team for the Children. Събитието ще се проведе на 26 март 2011 г. и специален участник в надпреварата ще бъде лично Негово Височество Принца на Монко Албер II. Това съобщиха днес организаторите на нарочна пресконференция в зала "Родина" на националния стадион "Васил Левски".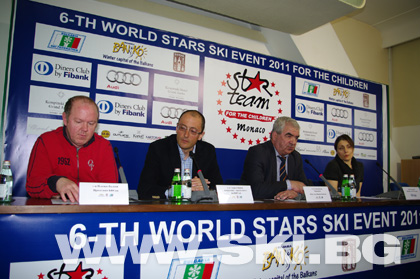 Н.В. Принц Албер ІІ пристига в България на 25 март, а в Банско ще бъде посрещнат по-късно през деня на стадиона лично от кмета г-н Краваров. "Ще използваме посещението на Негово Височество Принца на Монако Албер II и на футболната ни звезда Димитър Бербатов, за да им връчим почетния знак на Банско, заяви на днешната пресконференция г-н Краваров. – Посещението им в Банско ще е голяма реклама за нашия град".
Това е първата подобна инициатива, която ще се проведе в България, а половината от приходите от нея ще бъдат предоставени за стипендии за висше образование на български деца в неравностойно положение. Досега подобни състезания са провеждани в световноизвестните зимни курорти Алта Бадия, Сестриере, Вал Гардена, Самнаун, Идре Фиял и Сен Мориц.
В надпреварата с благотворителна цел в Банско ще участват над 20 световноизвестни имена, сред които пилотът от Формула 1 Рикардо Патрезе, световният рали шампион Ари Ватанен, 5-кратният носител на Световната купа по ски Марк Жирардели и др. България ще бъде представена от носителя на Златната топка Христо Стоичков, олимпийската шампионка в скока на височина и председател на Българския олимпийски комитет Стефка Костадинова, олимпийската шампионка по биатлон Екатерина Дафовска и бронзовата олимпийска медалистка в същия спорт Ирина Никулчина. Нападателят на "Манчестър Юнайтед" Димитър Бербатов също ще се включи, но само ще стреля на огневия рубеж на биатлона, тъй като договорът му с "Червените дяволи" не му позволява да се качва на ски.
Благотворителното състезание на 26 март 2011 г. ще се проведе по следната програма:
1. Паралелен слалом на писта "Томба с начален час 10,00 часа
2. Щафетен биатлон на стадиона за биатлон на "Бъндеришка поляна" с начален час 15,00 ч.
3. Награждаване на сцената на "Бъндеришка поляна"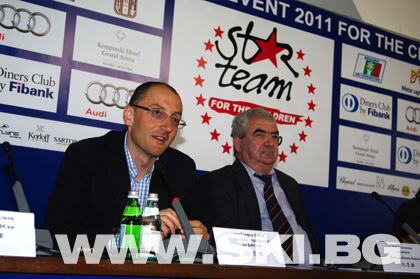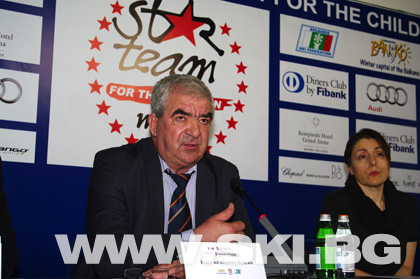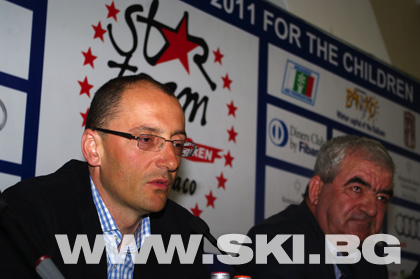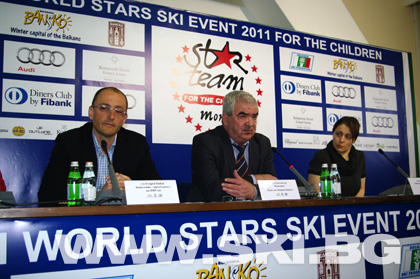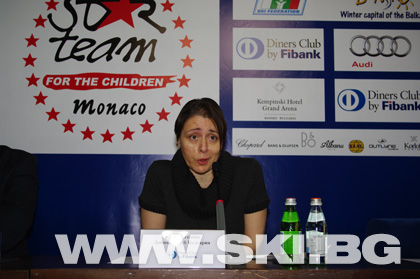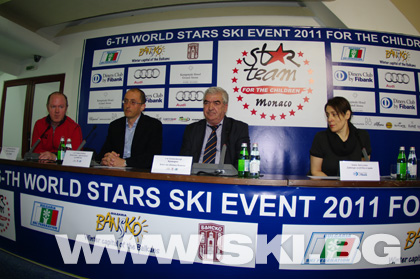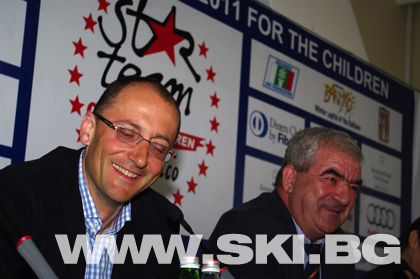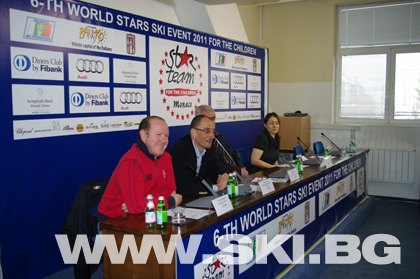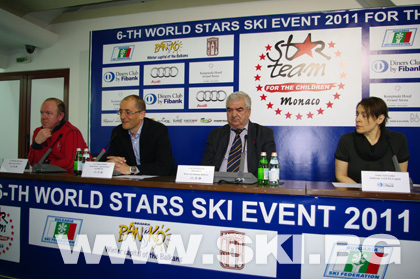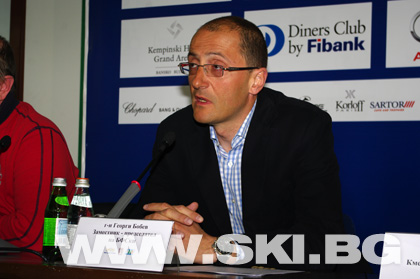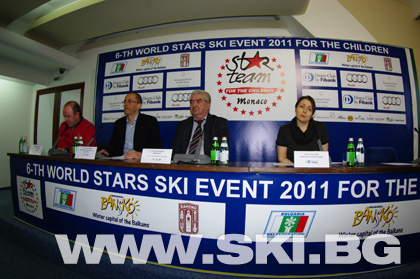 A.S. STAR TEAM FOR THE CHILDREN е създаден през 1993г.от Негово Височество Принца на Монако Албер ІІ и архитект Мауро Серра. Идеята възниква поради факта, че световно известни личности от спорта и шоубизнеса живеят в Монако. Всички те се присъединяват към благотворителната инициативата в подкрепа на децата в неравностойно положение и вярват, че тя може да приобщи и много други популярни личности от цял свят. До момента са организирани общо 32 благотворителни спортни и социални мероприятия. Има традиция да се организират различни спортни инициативи и така кръга от съмишленици се разширява по цял свят. Организирани са рали, голф, ски, футбол, мотокрос и други състезания. Във всички състезания към звездния отбор се приобщават и деца, които са младите таланти от съответните дисциплини. До момента са проведени 5 благотворителни ски състезания, като предстои 6-то, което ще се състои в курорта Банско. В България ще се проведе и състезание по биатлон.
Съорганизатор на събитието е Българска федерация ски, а домакин е Банско.
Предвидена е пресконференция с принц Албер II на 25 март (петък) от 19,30 ч.в зала "Олимпия" на хотел "Кемпински Гранд Арена" Банско.
Акредитации за състезанието и информация за организирания за медиите транспорт и нощувки до Банско можете да получите на тел: 0882 911 963; +359 2 854 80 75.