Президентът на ФИС Джанфранко Каспер обяви, че домакинството на Банско за първи път на Световна купа за мъже е резултат от отличната работа на Българска федерация ски и перфектната инфраструктура и писти в курорта.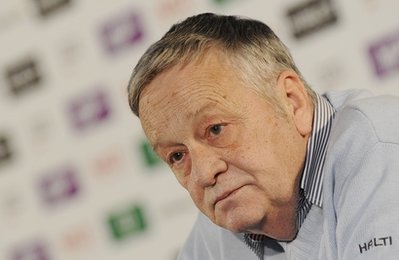 Gian Franco Kasper, President of the International Ski Federation (FIS) and member of the International Olympic Commitee (IOC) looks on during a press conference for the upcoming Alpine Ski Championships in Garmisch-Partenkirchen on Monday, Feb. 7, 2011 in Garmisch Partenkirchen, southern Germany. (AP Photo / Kerstin Joensson)
"През 2009 г Банско прие Световната купа за жени и показа, че може да се справи перфектно с организацията, заяви по време на световното в Гармиш-Партенкирхен (Германия) Каспер. - Аз съм оптимист, че и със стартовете при мъжете в Банско ще можете да се справите отлично още повече, че и вашето правителство помага за това".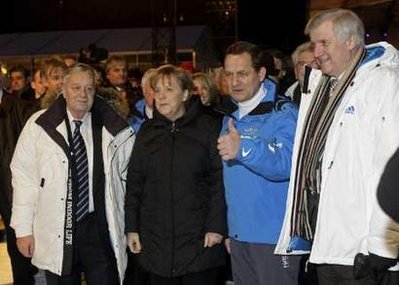 Swiss FIS president Gian Franco Kasper, German Chancellor Angela Merkel, German ski federation President Alfons Hormann and Bavarian State Premier Horst Seehafer attend the opening ceremony of the Alpine Ski World Championship in Garmisch-Partenkirchen February 7, 2011. (REUTERS/Dominic Ebenbichler)
Интересът към билетите за стартовете от Световната купа в Банско продължава да е много висок. Цената за възрастни за един ден е 35 лв., а комбинирания пропуск за двата дни е 55 лв. За деца и ученици цената на билета е 20 лв. за ден и 30 лв. за двата дни, като притежателя на пропуска трябва да е с придружител. В цените на билетите влиза и транспорт от Банско до финала на писта "Бъндерица" и обратно. Билетите за Световната купа все още могат да се намерят в Банско на специални павилиони в хотел "Стражите" и пред начална станция на кабинката, а също така и в София в магазин "Максспорт" на бул. "България" 81Г. Най-търсени към момента са комбинираните билети и за двата старта.