SKI JUMPING. Due to the strong wind in Engelberg it was not possible to jump on the Groß-Titlis-hill in central Switzerland and the training and qualification had to be cancelled on Friday.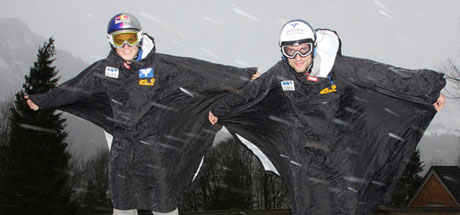 "The turbulences when we were approaching the airport in Zurich were enough for the whole weekend", Gregor Schlierenzauer said about his experiences from the trip to Engelberg.
Austrians Thomas Morgenstern and Wolfgang Loitzl demonstrated how strong the wind is on the roof of the hotel. "We were looking for the 100 km/h gusts there and tested our new wingsuits", Morgenstern told with a smile.
"There was even a storm warning for this region so the local authorities don't allow anyone at the facility because it's too dangerous. According to the weatherforecast the storm will be followed by heavy snowfall that shall last until Saturday morning. Then we will start to get the hill ready for training and the qualification", said FIS race director Walter Hofer.
The decision about the new schedule was then made in a team captain's meeting at 6:00 pm CET. The training shall now take place on Saturday at 10:00 am CET, followed by the qualification at 10:45 am CET. The competition shall then start as planned at 1:45 pm CET.
FISskijumping.com
16.12.2011