ALPINE SKI WORLD CUP. The Audi FIS Ski World Cup ladies' slalom in Courchevel (FRA) had to be cancelled today Saturday. Despite major efforts by the Local Organizers since several days, the jury had no chance but to cancel the slalom race for Saturday.
"All that was possible was done. Great thanks to the team here in Courchevel. But unfortunately we could not run a World Cup level slalom race today," said Atle Skaardal, FIS Chief Race Director for the ladies' World Cup.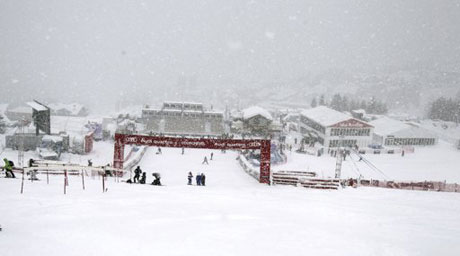 Snow falls on the finish area after an alpine ski, women's World Cup giant slalom was cancelled, in Courchevel, France, Saturday, Dec.17, 2011. The women's World Cup giant slalom at Courchevel has been canceled due to poor weather conditions and Saturday's slalom has been moved to Sunday to give it a chance of going ahead. Officials from the International Ski Federation inspected the slopes Saturday morning and found that certain sections of the Stade Emile Allais course were too soft underfoot to hold the slalom on Saturday. (AP Photo/Marco Trovati)
"It was an unanimous decision. Together with the OC, the coaches and the athletes representative, the jury decided to cancel the race for today Saturday. We will try with the slalom again on Sunday. The giant slalom in Courchevel is cancelled."
"For the most part the course was in good, even great condition. However, there're some ten gates at the entry to the steep part that were starting to break through already during the inspection. That could be dangerous and our main goal is to run a fair and safe race for all participants."
"Early this morning, we were actually getting quite positive about our chances to carry out the race today. Unfortunately then the snow kept falling and we saw quite soon that the base at the steep part would not hold," added Markus Mayr, FIS Race Director for the ladies' technical events. "We will now focus on cleaning the course and then hopefully with the help of the weather gods, fixing the base problems for tomorrow."
FISalpine.com
Saturday 17 December 2011