SKI CROSS. INNICHEN/SAN CANDIDO, Italy — Canada's Kelsey Serwa made it a perfect two wins out of two Sunday when she led the women's ski cross final from start to finish to secure her second World Cup victory in as many days.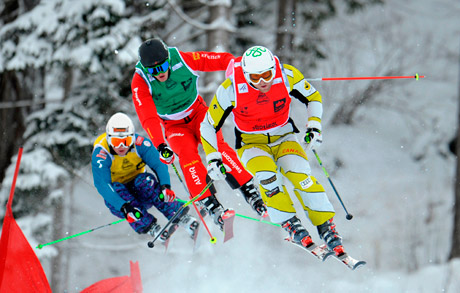 Brady Leman in action, SX INNICHEN/SAN CANDIDO, Italy, 17.12.2011 (Pentaphoto/Alpine Canada)
In the men's race, Canada's Dave Duncan narrowly missed out on securing his second podium of the weekend — after Saturday's bronze medal — when he was caught up in a three-person crash in the final and finished fourth.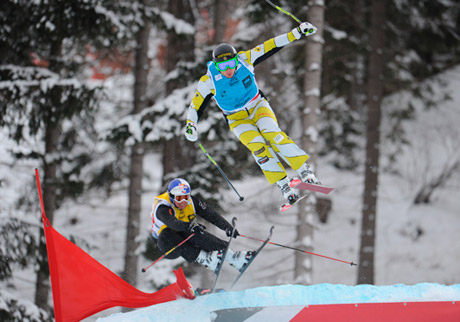 Canada's Dave Duncan, SX INNICHEN/SAN CANDIDO, Italy, 18.12.2011 (Pentaphoto/Alpine Canada)
"It's a fantastic start to the season," said Serwa, who will be taking the red World Cup leader's bib home with her for Christmas. "In the final I got out in front and I stayed in front all the way. I had the confidence from qualifying and the (technicians) nailed the wax once again. As soon as I started gliding, I just took off. It was great — I wish every race was like that!"
The Swiss duo of Sanna Luedi and Katrin Mueller were second and third, respectively. Georgia Simmerling followed up her 13th-place finish in Saturday's race — her ski cross World Cup debut — with a ninth-place result Sunday. Whistler, B.C.'s Marielle Thompson was still a little sore after crashing in Saturday's women's final and finished 16th Sunday. Mariannick Therer was 28th in qualification and did not make it through to Sunday's quarterfinals.
"Kelsey was on fire today," said Eric Archer, Canada's head coach. "She won every heat — she had a good time out there. It's pretty big for her to get a double win on the opening weekend."
There was fierce competition on the men's side, where Canada had seven skiers going for gold.
Duncan, who won bronze on Saturday, looked poised to pick up his second medal of the weekend before he crashed in the men's final. Austria's Andreas Matt took the win, ahead of Russia's Egor Korotkov and Switzerland's Alex Fiva.
"We passed through the rollers and I was able to get a lead," Duncan said of the final. "Something happened … next thing you know, there were three of us flying through the air.
"I did a quick look … and just started skiing away with one pole," added Duncan, who suffered a minor cut to the face. "I almost caught (Fiva) at the bottom with one pole and blood on my goggles."
Of the other Canadian men, Tristan Tafel qualified for the first time at the World Cup level but was edged in the quarterfinal to finish ninth. Brian Bennett was 14th after also going out at the quarterfinal stage. Nik Zoricic was 21st, Whistler's Stan Rey was 24th, world champion Chris Del Bosco was 26th and Saturday's winner, Brady Leman, was 27th. Davey Barr did not start due to a knee problem.
"It was good to get all the guys qualified," Archer said. "And for Tristan to get to the quarterfinal, that's great.
"The start was key at this stop and Del Bosco didn't have a good start today. He was fighting from the back.
"It was good to see a couple of the young guys doing well. You can't win them all."
The next ski cross World Cup stop is St. Johann, Austria, on Jan. 7.
Snowsports Media
December 18, 2011
The Canadian Press and Alpine Canada contributed to this report
Leman, Serwa score wins in ski cross openers
INNICHEN/SAN CANDIDO, ITALY — Canada made a golden start to the 2011-12 ski cross World Cup season Saturday, winning the men's and women's races in Innichen/San Candido, Italy, and putting four racers in total on the podium.
Brady Leman of Calgary, Alta, celebrated his comeback from a long injury layoff by winning the men's race — his first career ski cross World Cup podium — while teammate Dave Duncan of London, Ont., was third.
World champion Kelsey Serwa of Kelowna, B.C., continued her winning ways from last season to take the women's race, with teammate Marielle Thompson of Whistler, B.C., placing third to record her first career World Cup podium.
"I'm thrilled and a little bit shocked still," said Leman, 25, who broke his right tibia in 2009 and then suffered another heartbreaking injury just before the 2010 Winter Olympic Games. "I can't believe I won my first race back.
"There's been a lot of hard work over the past few years and it's finally paid off. It's a big relief. I'm super pumped."
Duncan, a national-team veteran, has been skiing well in training and recorded his third career ski cross World Cup podium Saturday. He won his quarter- and semifinal heats before finishing third behind Leman and Russia's Egor Korotkov — who was second — in the men's final.
"Once you are in the final you have a chance," said Leman, who led virtually from start to finish in the final. "I had my best start of the day and took the win. I was side by side with Egor into the first turn but I had position. I just tried to stay calm and ski to the finish."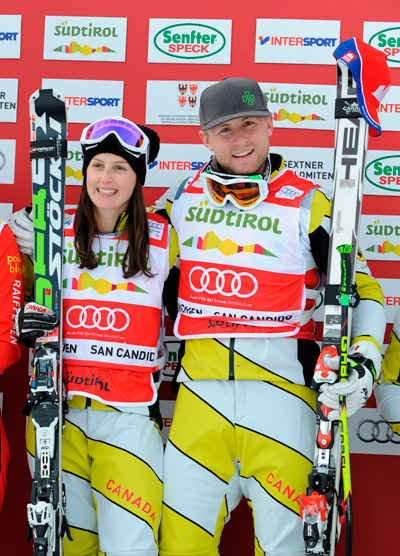 Serwa and Leman celebrate, SX INNICHEN/SAN CANDIDO, Italy, 17.12.2011 (Pentaphoto/Alpine Canada)
World champion Chris Del Bosco got into what he described as a "slight tangle" in the quarterfinals and didn't make it through, finishing ninth overall. Davey Barr and Brian Bennett were eliminated in the first heats and placed 18th and 30th, respectively.
In the women's races, Thompson and Serwa finished 1-2 in the semifinal and found themselves at the front of the pack once again in the final.
"It was just Marielle and I and she was right on my butt," Serwa said. "On the second-last turn her ski popped off. I didn't see it but she did kind of a front flip and hiked up before skiing down to finish third."
Serwa had a breakthrough 2010-11 season, winning both X Games and World Championships gold. Victory in her first race sends a clear message to her rivals that she will be one of the racers to beat in 2011-12.
"I couldn't really ask for more," said Serwa, who was also fastest in qualification. "I qualified fast and kind of took that into the racing. Thanks to the techs, the skis took off as soon as they hit the snow today."
Switzerland's Sanna Luedi was second in the women's final. Georgia Simmerling made her ski cross World Cup debut Saturday but she had a tough draw and was eliminated at the quarterfinal stage, finishing 13th.
The action continues Sunday in Innichen/San Candido with a qualification round and a second set of men's and women's races.
"It was awesome to see some new faces on the podium," said a delighted Eric Archer, head coach of Canada's ski cross team. "We know Del Bosco will be back and will do his thing all year. Now we've got some new guys up there as well."
Snowsports Media
December 17, 2011