ALPINE SKI WORLD CUP. ASPEN, United States – Blue skies, warm weather, and hard snow in Aspen made for an exciting ladies giant slalom race. Tina Maze from Slovenia absolutely dominated the field, winning by almost a full second over Kathrin Zettel from Austria and Viktoria Rebensburg from Germany.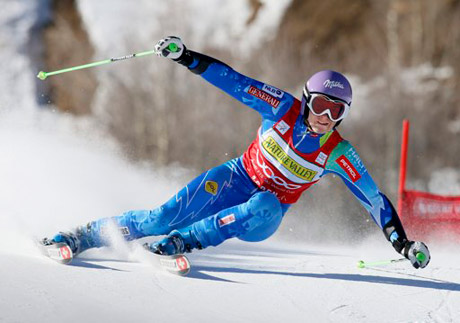 Tina Maze from Slovenia, races down the course during the women's World Cup giant slalom ski race in Aspen, Colo., on Saturday, Nov. 24, 2012. (AP Photo/ Nathan Bilow)
"This is my first podium in america so i'm really proud of how we prepared for this race and how I am skiing. It's an amazing feeling when you can ski GS like that, Im having fun and everything is under control and I don't risk too much and it's just fun to come down. My skiing is natural and winning is coming with that. I am focusing on my skiing now and not winning and I am having a lot of fun."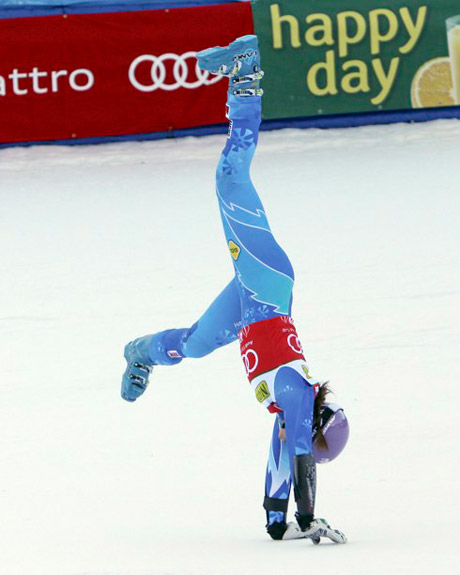 Tina Maze, from Slovenia, does a cartwheel in the finish arena after winning the women's World Cup giant slalom race in Aspen, Colo., on Saturday, Nov. 24, 2012. (AP Photo/Alessandro Trovati)
Having fun seems to be in Tina Maze's progression as a ski racer and also as a musician with her debut single "My way is my Decision." She has been working hard for the past few years to make it to this point in her career where fun equals fast.
"I've been racing world cup for thirteen years now and "it's now or never" I say. We have been working five years now to be at the place where I am now and we would like to continue this way for the end of the season."
Austrian Anna Fenninger, who was sitting in second position after the first run, fell early in the second run and did not finish.
Her teammate, Kathrin Zettel, stepped it up and finished on the podium for her fourth time in Aspen.
"I love Aspen, its wonderful. It's different but I feel so well here and I had so much podiums and my first win in GS so it's perfect."
Zettel was also second in Soelden and is making it clear that she is one to watch this season for more podium results.
"I am happy to be back on the podium again. It cannot be better at the moment. I had a really solid first run and second run I tried to drive much more aggressive and it worked."
Viktoria Rebensburg from Germany won the giant slalom in Aspen last season and almost had a repeat performance. Her first run left her quite far behind Maze, but similar to previous races, she absolutely charged second run to make up some valuable time.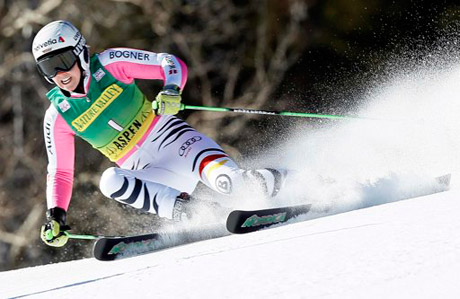 Viktoria Rebensburg of Germany skis to fifth place after the first run of the ladies World Cup giant slalom ski race in Aspen, Colorado November 24, 2012. REUTERS/Rick Wilking
"I'm happy now that I could make it to the podium. It's always nice being up there and enjoying the atmosphere but of course I still have a lot of work to do in giant slalom. Tina is pretty fast, but right now I'm happy. I went out in the first race, and sometimes you have that in your head a little bit, so for now I am happy.
Rebensburg did not finish the last World Cup race in Soelden, but made sure to have a solid perfomance today in Aspen.
"When you dont finish a race it's always in your head a bit but I try to push in training and stay focused. This hill is always challenging, there's so many rolls on the slope and the second run is so dark."
All eyes are on Tina Maze now in Giant Slalom. For her it's a new feeling, "I feel like people are watching me now more than before and and it's something different!" The ladies know that Tina is the one to beat in giant slalom now, Rebensburg is looking ahead to make some changes and catch Tina.
"Tina is skiing pretty good! I have a lot of work to do. I'll try to stay focused and concentrated in training and keep pushing forward. We have new skis and we are testing things and finding things out to make you more confident and faster."
Mikaela Shiffrin, the seventeen year old form the United States made a major statement in giant slalom today coming in ninth position from bib 42. Aspen was her seventh time racing World Cup giant slalom, and her second time qualifying. Today's 9th position easily beat her previous best result 26th from last season in Andorra.
An exhausted looking Lindsey Vonn moved back from 10th position in the first run to 21st.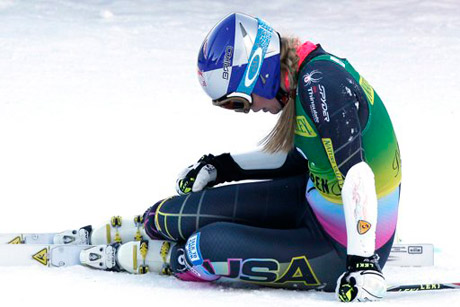 Lindsey Vonn of the U.S. lies slumped on the snow exhausted after finishing 21st in ladies World Cup giant slalom ski race in Aspen, Colorado November 24, 2012. Vonn was hospitalized for illness recently. REUTERS/Rick Wilking
"I was very sick a few days ago and I'm just happy to be racing. I'm getting better everyday; everyday I'm building strength and cardiovascular strength so I just need to try to recover sunday and monday and hopefully be ready for the first training run on Tuesday in Lake Louise. If it continues to progress like it is I should be ready for the weekend and three races in Lake Louise is a big weekend for me, so hopefully I can capitalize on that and ski one hundred percent.

Kathrin Zettel, left, from Austria, second place, Tina Maze, center, from Slovenia, first place, and Viktoria Rebensburg, right, of Germany, third place celebrate on the podium at the women's World Cup giant slalom race in Aspen, Colo., on Saturday, Nov. 24, 2012. (AP Photo/Alessandro Trovati)
Todays race held up to it's reputation as a tough and challenging hill with many girls struggling to find a clean line. Lara Gut had an amazing second run and just missed the podium by two tenths. She looked healthy, strong, and confident with no sign of reminiscing injury related issues. Irene Curtoni has been consistantly in the top ten for the last season and proved that she is there to stay! Tessa Worley who has had an amazing history in Aspen with two previous wins came into sixth. Her teammate Taina Barioz crushed the second run and launched herself into seventh position, tying with Elizabeth Goergl. Shiffrin and Poutiainen rounded out the top ten.
By: Anna Goodman
FISalpine.com
Saturday 24 November 2012