ALPINE SKI WORLD CUP. LAKE LOUISE – What a weekend for Aksel Lund Svindal in Lake Louise! The Norwegian champion made it two out of two in the Canadian resort.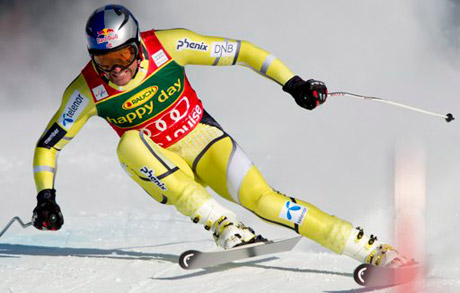 Aksel Lund Svindal, of Norway, speeds down the hill during the men's World Cup super-G ski race event in Lake Louise, Alberta, Sunday Nov. 25, 2012. (AP Photo/The Canadian Press, Jonathan Hayward)
Ted Ligety, who flew to Lake Louise on Friday and missed the downhill race was comfortably in the lead when Joachim Puchner made everyone in the finish area hold their breath as he took the lead by a mere 0.01 of a second.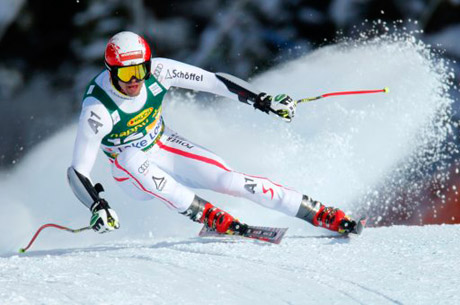 Austrian skier Joachim Puchner in action to a third place finish during the Men's World Cup Super-G race in Lake Louise, Alberta, November 25, 2012. REUTERS/Mike Blake
The Austrian seemed to be the only one who would have been able to beat Ligety, but it turned out that was not the case. Bib number 16 Adrien Theaux was faster, taking over the lead form Puchner – but his stay at the leader box was short lived.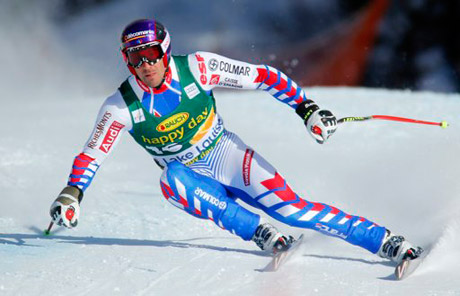 French skier Adrien Theaux in action to a second place finish during the Men's World Cup Super-G race in Lake Louise, Alberta, November 25, 2012. REUTERS/Mike Blake
Starting right behing Theaux, Svindal showed he was in a league of his own. With a time of 1 minute, 34.96 seconds, the Norwegian kept picking up speed along his run. In the middle section of the course he was even 1.20 seconds ahead of everyone else. He eventually crossed the finish line leaving a .85 gap between himself and the French skier, moving Puchner into third place, and Ligety just off the podium by .01 seconds.
Svindal seems to be in a different state of mind these days; the confidence with which he attacked the racecourse was obvious to everyone watching. But how does one get there?
"It's hard work," he tries to simplify. "I know it's the boring standard answer but it's true. The good part is that I learned that hard work doesn't have to be boring. I had a good summer, I have been healthy and managed to have fun and enjoy my training."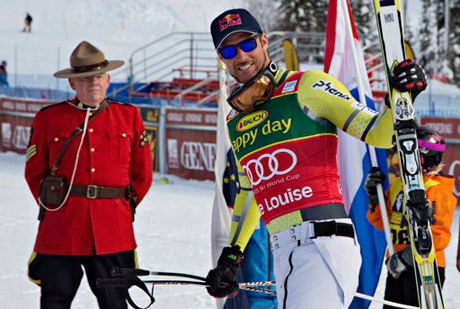 Aksel Lund Svindal of Norway celebrates his first place finish during the Men's World Cup Super G skiing in Lake Louise, Alberta November 25, 2012. REUTERS/Andy Clark
Svindal makes it all sound so simple, but even he will admit it's not always easy.
"There is good days and bad days, but every day on skis is a good day for me and even the running, weight lifting and biking – if you can have fun with it you can do a lot of it and that helps."
Svindal had a major seatback after crashing in Beaver Creek, and it took him a year to get back on track and build his confidence.
"I think the most interesting part is the how to get into a mental state where you know you can be as good as I was this weekend," Svindal explains. "If I know I have prepared well, I worked hard, I skied well in the training runs and am confident in my equipment – I know the rest is up to me, and I know I want to win. When you are in this state of mind it seems impossible not to have that confidence, but believe me, I have been on the other side. You don't have a chance to win every day, this is my 18th victory and I know how hard I worked for each one of them."
Before his crash in Beaver Creek, Svindal was feeling at the top of his game and realizing that could go away in a split of a second.
"It took me a year to get back from my crash in Beaver Creek, but I learned from that. I was feeling like Superman that year, and when I hit the fence and I definitely didn't feel like Superman anymore. Now I manage risk a little better, I don't want to always stay at the same side but I learned the difference between race and training. Now I chose my risks more wisely. I sold my motorcycle; you don't want to play the odds too much."
Second ranked Adrien Theaux couldn't get the smile off his face. After a rough start in Lake Louise, today he finally performed at the level he had envisioned on the way over to Canada.
"It's always a great start to stand on the podium the first weekend of the season," he said smiling, his disappointment from Saturday quickly forgotten.
"Saturday's downhill didn't really go as I expected so today was a little bit like a redemption for me. I was third here last year and am really happy I moved one step up this year. I was a little angry at myself so today I tried to get a good feeling this morning and it worked out."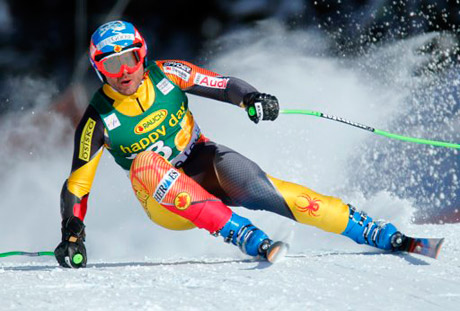 Canadian skier Jan Hudec in action during the Men's World Cup Super-G race in Lake Louise, Alberta, November 25, 2012. REUTERS/Mike Blake
As all the racers, the moment the race is over, they turn their heads to the next one, and Beaver Creek is for sure one most skiers look forward to.
"Lake Louise is always a challenge because it seems easy but it's not really – it's hard to go fast here. Compared to Beaver Creek, of course it's less steep and there are less jumps but I look forward to the Birds of Prey next week."
He might not have won the race, but the happiest guy out there might easily have been Joachim Puchner. With 30 races through the finish line, Puchner still had his heart racing.
"I know it's going to be like every time, I am sitting in third and someone will come in and I will end up just off the podium."
Luckily for him, no one was able to beat his time and he will be walking away from Lake Louise with his fourth career's podium. The wait might have proven almost more stressful then the race itself for the young Austrian.
" I was just so nervous! I was so nervous I couldn't even get myself to stay still," Puchner said. "I was so scared once again things wouldn't go my way and my heart rate got back to its normal pace only once the last guy crossed the finish area."
"I podiumed the last time two years ago and last year I kept being close – a fourth and a sixth place showed me I could be among the best but somehow that podium never came last year. Today, I attacked all the way down and am unbelievably happy it paid off – it's so great!"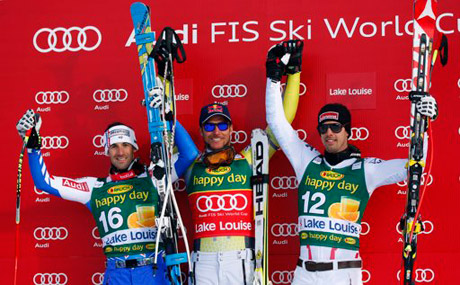 Norway's Aksel Lund Svindal, center, celebrates his win with second place finisher Adrien Theaux, left, of France, and third place finisher Joachim Puchner, of Austria, at the men's World Cup super-G ski race event in Lake Louise, Alberta, Sunday Nov. 25, 2012. (AP Photo/The Canadian Press, Jeff McIntosh)
The men's tour is moving to Colorado, and the first training is scheduled for Tuesday morning.
by Ana Jelusic
FISalpine.com
Sunday 25 November 2012