ALPINE SKI WORLD CUP. ASPEN, United States – Another absolutely beautiful day with perfect conditions for slalom at Aspen. One of the toughest stops on the ladies tour proved once again that racers need to attack, fight, and risk it all if they want to win. Mistakes are costly, and those who risk the most reap the biggest rewards. The lady who laid it all out on the line today was Kathrin Zettel. With few mistakes and two absolutely awesome runs, she held the top spot throughout the race and ended up with a well deserved win.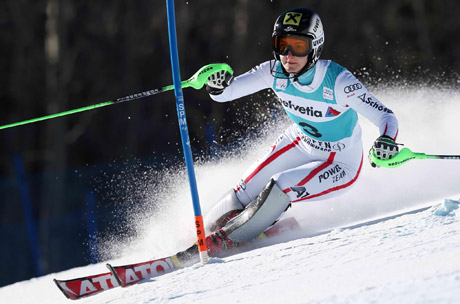 Double victory for our Slalom girls! Kathrin Zettel with her second WC win, Marlies Schild 2nd, Mikaela Shiffrin 7th, Michaela Kirchgasser 8th! Photo: ATOMIC
"I was so happy when I saw the green light in the finish. I never thought I could do this today and I don't have to lose anything, but my last slalom victory was two years ago so I am so proud."
A beaming Zettel knew that her weekend was special.
"After yesterday I was really relaxed. The second place gave my a lot of, like dancing, good feelings, and it felt really good today. This is so important to me, I wished to win a slalom again, and last year I had a lot of problems and now it happened and it's so wonderful. I have a lot of confidence for the next races. "
Zettel's Austrian teammate Marlies Schild took the silver medal after an amazing second run.
Looking ahead Zettel sees great things for her strong team. "We always push each other in training and we have world champs in Austria, so thats a good sign."
Schild agreed that two Austrians on the podium is a good omen. "I think it's very nice (to have two Austrians on the podium). Last year we did well in Aspen and the season was great."
After her tentative first run, Schild showed the crowds in Aspen that she is still on top of her game in slalom. She torched the second run and even with a few mistakes still boosted herself up to second place for her first podium of the season.
"It's my first podium this season and I am really happy with that. I tried to give my best. I made a mistake in the lower part of the section but thats how it is if you want to ski fast and strong it can happen to make mistakes."
Two Autrians on the podium is a sign for a strong season from this team. Schild reflected on Zettels amazing performance: "She (Zettel) was pretty tough to beat especially in the lower part. I will work and next time I hope I can do the same."
Tina Maze is still on fire! She had two solid aggressive slalom runs and landed herself yet another podium! Singing with a huge smile on her face, Maze reflected on why she posted the song by Queen on her Facebook fan page.
"'Don't stop me now cause I'm having a good time.' I wanted to share it with my fans and friends on Facebook. I am ready for racing. I feel fit and my team is great. I'm many years on the World Cup Circuit and its time to show who I am and ski the way I can."
Two podiums for both Zettel and Maze in Aspen shows that these ladies are the queens of the hill in Colorado!

Zettel lays it all on the line to take the win at the Aspen World Cup Slalom. Marlies Schild who came into second place showed in the second run that she still dominates slalom, and Tina Maze, after yesterday's win, added another podium to her amazing season so far with third place! Photo: FISalpine.com
Another awesome finish was by the young American star Mikaela Shiffrin who stepped up after her 10th place in the first run and ended up in 6th.
" I was missing my rhythm a little bit the first run. It felt ok, but I didn't have my rhythm so I was throwing my skis sideways and I lost a lot of time that way. The second run I just found my rhythm and it was fun."
When asked about songs in her head she smiled and replied "I think I always have a song in my head."
It seems like the ladies who are dominating this season are having tons of fun, think of skiing like dancing, and enjoy singing and having fun songs around them. The Aspen atmosphere, music and exciting races, and ladies having fun dominating the slopes made for an exciting show!
By: Anna Goodman
FISalpine.com
Sunday 25 November 2012