SWIX SKI CLASSICS. Swix Ski Classics will this weekend move to Rena and Lillehammer for Birkebeinerrennet, 54 km cross country skiing in classic technique.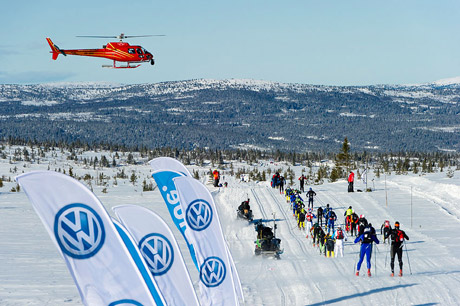 Photo by Magnus Östh / Swix Ski Classics
Swix Ski Classics is a long distance ski championships, consisting of six of the most prestigious ski events in the world: Jizerská Padesatká in Czech Republic, Marcialonga in Italy, König Ludwig Lauf in Germany, Vasaloppet in Sweden, Birkebeinerrennet in Norway and the Swix Ski Classics Final Årefjällsloppet in Sweden, all 50 km or more and open for professional as well as amateur skiers.
The Swix Ski Classics 2013 season is entering the last push with two races to go. Birkebeinerrennet on Saturday starts out in Rena and goes with spectacular views over Raudfjellet and Midtfjellet before heading down to the finish in Lillehammer. The racers will face many tough climbs where the conditions can vary from the valley to the top and also with changing weather along the course.
After 54 km the skiers will cross the finish line at the Olympic stadium from 1994. The course is the most hilly in Swix Ski Classics, with even tougher climbs than Jizerská Padesatká.
There are two Swix Ski Classics sprints: Skramstad after 9 km and Kvarstad after 27 km. Simen Østensen (Team Xtra Personell) is currently wearing the green sprint bib, and he can secure the victory in the Swix Ski Classics Sprint competition on Saturday.
Bauer and Roponen back in Swix Ski Classics
In the Swix Ski Classics Champion competition there is a tie after four events between the Norwegian brothers Anders and Jørgen Aukland (Team Xtra Personell), each with 560 points. Many good skiers are hungry to challenge them, such as the Team Coop skiers Roger Aa Djupvik and Espen Harald Bjerke, 2nd and 3rd last year in Birkebeinerrennet. Also teammate Lukas Bauer will have a good chance on this hilly course, he was 2nd in Jizerská Padesatká in January. Other contenders of the victory are for example Jörgen Brink (Team United Bakeries), Stanislav Rezac (Team Xtra Personell) och Jerry Ahrlin (Team Xtra Personell).
In the women's field there are many candidates for the victory. Seraina Boner (Team Coop) is the overall leader in Swix Ski Classics after the places 2nd, 1st, 1st and 2nd in first four events, and she also won Birkebeinerrennet last year. Laila Kveli (Team Xtra Personell) won Vasaloppet ten days ago and she is evidently in good shape. Other strong skiers on the starting line are Susanne Nyström (Team Xtra Personell), Jenny Hansson (Team Coop), Sandra Hansson (Team Oslo Sportslager/Moelven) and Riitta Liissa Roponen (iXmind Racing Team).
Birkebeinerrennet starts at 08.00 CET on Sunday will be broadcasted on the following 16 TV stations all over the world:
PCTV Mexico
MTV3 Finland
NRK Norway
TV4 Sverige
Czech TV, Czech Republic
Band Sport Brazil
Nova Sport Greece
Nova Sport Cyprus
Viasat Denmark
Viasat Sport Baltics Estonia
Viasat Sport Baltics Latvia
Viasat Sport Baltics Lithuania
SPTV Croatia
Slovak Sports TV Slovakia
Sport+  France
ARD/ZDF News Germany
EBU - News Europé
Read more about Swix Ski Classics at www.swixskiclassics.com
Read more about Birkebeinerrennet at www.swixskiclassics.com/content/event-6-birkebeinerrennet
Standings
Swix Ski Classics Champion Men
1) ANDERS AUKLAND, Team Xtra Personell, 560 points
2) JØRGEN AUKLAND, Team Xtra Personell, 560
3) STANISLAV ŘEZÁČ, Team Xtra Personell, 378
4) JERRY AHRLIN, Team Xtra Personell, 356
5) JØRGEN BRINK, Team United Bakeries, 318
Swix Ski Classics Champion Women
1) SERAINA BONER, Team Coop, 720
2) LAILA KVELI, Team Xtra Personell, 528
3) JENNY HANSSON, Team Coop, 440
4) SUSANNE NYSTRÖM, Team Xtra Personell, 342
5) STEPHANIE SANTER, iXmind Racing Team, 276
Swix Ski Classics Sprint
1) SIMEN ØSTENSEN, Team Xtra Personell, 105
2) STANISLAV ŘEZÁČ, Team Xtra Personell, 50
3) MORTEN EIDE PEDERSEN, Team Coop, 40
Swix Ski Classics Team
1) Team Xtra Personell, 2131
2) Team Coop, 1290
3) Team United Bakeries, 791
 
Swix Ski Classics Youth Men
1) CRISTOFFER CALLESEN, Team Xtra Personell, 158
 
Swix Ski Classics Youth Women
1) LAILA KVELI, Team Xtra Personell, 528