WINTER X-GAMES 2014. ESPN's X Games will kick off the 2014 winter season at X Games Aspen, returning to Aspen/Snowmass, Colo., January 23-26, 2014, with live coverage on ESPN and ABC. The premier action sports winter event will celebrate its 13th year in Aspen, and will again showcase the talents of more than 200 athletes from across the globe competing for medals and prize money in the sports of Snowboard, Ski and Snowmobile. Snowboarder X and Snowmobile Long Jump will return to the X Games Aspen list of disciplines in 2014 after a brief hiatus.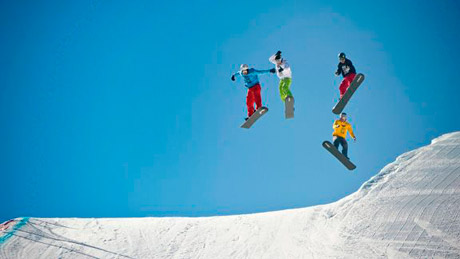 Nick Baumgartner (in white) leads during Snowboarder X finals at X Games Aspen 2011. After a year hiatus, the event returns to Aspen in January. Photo: Josh Duplechian/XGames.com
 
Taking place just two weeks prior to the opening of the Sochi Games, X Games Aspen will showcase more Winter Olympians than ever before as Snowboard and Ski Slopestyle and Ski SuperPipe make their official Olympic debuts – joining existing X Games and Olympic disciplines of Snowboard SuperPipe and Snowboarder X.  X Games Aspen will be the final world-class competition to watch Olympic hopefuls compete before heading to Sochi.
 
"We're excited to showcase the talents of over 200 world-class athletes at X Games Aspen," said Scott Guglielmino, ESPN senior vice president of Programming and X Games. "Since 1997 the Winter X Games has become the pinnacle event for the world's best and this year many of these athletes will also be representing their countries at the Olympic Games in Sochi right after X Games Aspen."
 
ESPN and ABC will televise a combined 16 hours of live X Games Aspen competition in high definition.  An additional 10 hours of competition will be carried on ESPN3 as well as the latest coverage across ESPN digital platforms, including XGames.com, X Games app, X Games pages across Twitter, Facebook, Tumblr and more.
 
The full list of X Games Aspen sport disciplines is as follows:
X Games Aspen 2014
Jan. 23-26, 2014
 
Ski
Big Air
Slopestyle (M & W)*
SuperPipe (M & W)*
Snowboard
Big Air
Real Snow
Slopestyle (M & W)*
SuperPipe (M & W)*
Snowboarder X (M&W)*
Snowmobile
Freestyle
Long Jump
SnoCross
SnoCross Adaptive
*Denotes 2014 Sochi Games disciplines
For the complete, updated list of X Games Aspen 2014 athletes, go to www.xgames.com. *PLEASE NOTE: The invited athlete list is constantly being updated and is subject to change.
Among the first wave of invited athletes:
 •Bobby Brown – A three-time X Games gold medalist, Brown holds the distinction as the first skier to win two gold medals at the same X Games event in 2010, and is a former ESPY nominee for Best Male Action Sports Athlete.
 •Kelly Clark – The first female snowboarder to land a 1080 in competition, Clark made history at X Games Aspen last year by becoming the first female to three-peat in the Snowboard SuperPipe competition.  Clark also owns Olympic gold from the 2002 Winter Olympics and a bronze from 2010.
 •Seth Wescott – Always a threat to podium, Wescott is a seven-time Snowboarder X medalist at X Games Aspen with four silver and three bronze medals in his arsenal. Wescott is also the two-time defending Olympic gold medalist in the discipline.
 •Lindsey Jacobellis – A fixture on the podium, Jacobellis is arguably the most dominant force in the history of Snowboarder X with six gold medals and two sets of three-peats at X Games Aspen. With Sochi marking her third Winter Olympic appearance, Jacobellis will be motivated t as she attempts to add gold to the silver medal she claimed from the 2006 Winter Olympics.
 •Jamie Anderson – Anderson is the most decorated rider in the women's Slopestyle field, with four of her eight medals being gold and having podiumed at every X Games Aspen she has competed in. At age 15, she was the youngest female medalist in X Games history and the youngest gold medalist at age 16.
 •Kaya Turski – The most dominant female in Ski Slopestyle, Turski has medaled at every X Games event and was the first woman to land a switch 1080 in 2011. With a total of four out of six medals from X Games being gold, Turski is a favorite to podium in the debut of Ski Slopestyle in Sochi.
 •Mark McMorris – The first snowboarder to land the triple cork in competition, McMorris became a sensation at X Games Aspen 2012, winning gold in both Slopestyle and Big Air, followed by an additional gold in Slopestyle and silver in Big Air at X Games Aspen 2013.
 •Torin Yater-Wallace – Aspen local Yater-Wallace quickly gained notoriety in 2011 when he became the first to land a switch 1800 in competition and went onto earn a silver medal in Ski SuperPipe at X Games Aspen when he was just 15 years old. Since then, he has added two more medals to his collection – a bronze from X Games Aspen 2012 and silver in 2013.
 •Tucker Hibbert – The most decorated SnoCross racer in X Games history and 2012 FIM Snocross World Champion, Hibbert will be chasing the first-ever seven-peat in X Games history. With a total of 11 medals from 13 X Games winter appearances, Hibbert still holds the record for youngest athlete to ever win gold at winter when he accomplished this feat at the age of 15 in 2000.
 
Additional details on the X Games athletes, competition schedule, music and more can be found on www.xgames.com. Follow the X Games on Twitter a twitter.com/xgames.
Press Release
ESPN event media
November 27, 2013