SNOWBOARDCROSS. Lindsey Jacobellis (USA) and Jarryd Hughes (AUS) have clinched the second snowboard cross of the 2014 FIS Snowboard World Cup tour today.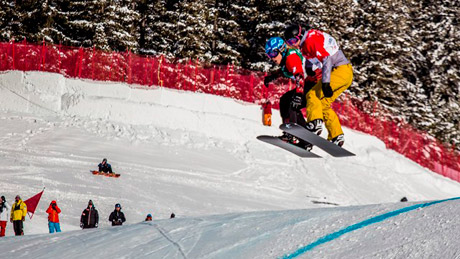 Lindsey Jacobellis (USA) in red and Dominique Maltais (CAN) in green compete at the Ladies Final of SBX World Cup Lake Louise CAN, photo © John Entwistle
At the debut of Lake Louise as Snowboard World Cup host, the three-time World Champion from the USA and the Australian young gun came out first of the finals.
On the 1,100 metres long course, the 2006 Olympic Silver medalist, who is finally back on top of her game after a two-year injury break and a seventh rank at the World Cup opener in Austria two weeks ago, underlined her strength with an impressive performance putting her rivals in the ladies' final pepped with two former and the reigning World Champion to their place.
Dominique Maltais (CAN) took second with 2009 World Champion Helene Olafsen (NOR) finishing in third. Reigning Olympic and World Champion Maelle Ricker (CAN) missed the podium as fourth. Bulgarian snoboardcross star Alexandra Jekova placed 6th after competing in the small final.
Like in her quarter and semi final, Jacobellis had missed the start due to racing with a broken thumb but was able to take over the lead after the technical first section which took out quite a view riders today.
"I liked how technical the course was as that plays to my strong suits. That helps me as I don't have strong pulls with my broken thumb right now," explained Jacobellis who earned her career's 27th today.
However, her main rival Dominique Maltais never gave up and kept fighting while hoping for a door to open for a pass.
"I made a mistake right after a good start and lost my focus for a split second. She (Jacobellis) was able to pass me there but still it was a heated battle until the end. I tried to find a whole but it was hard being so close together."
However, the four-time Crystal Globe winner was still pleased after taking over the World Cup lead with 1,600 points.
"I am extremely satisfied with second place today it shows I'm very consistent right now," Maltais said after celebrating back-to-back second rank finishes.
Later today Alexadra Jekova (BUL) commented her achievement in Facebook: "CANADA - Lake Louise World Cup -  6th place for Bulgaria:) - and as seen on TV, was not easy to acheived it.. Everybody is in excellent shape ,everybody fight hard..the level and the stakes in this Olympic year are high...but the good news is that we are still between "the best "and will keep working hard to stay there;)"
Rookie impresses the world
While victory went to a favourite on the women's side, 18-year-old rookie rocket Hughes surprised himself and the world on the men's side of things by claiming his career's first in his first ever final in so far eight World Cup starts.
The rider form down under edged off Konstantin Schad (GER) and Alex Deibold (USA) who both earned their career's second top-3 result to second and third while Regino Hernandez (SPA) had to settle with fourth, still his career's best result.
However, it was Hughes who had bravely fought his way to the finals where he was finally able to capitalize from a little mistake of German racer Schad thus taking home all the glory, including the World Cup lead.
"It's just amazing. The track was awesome, it's nice to be back in Canada after the World Champs. I'm so stoked. I never expected this," he said.
Schad, who was able to keep the momentum from a triumph in the team event at the World Cup opener in Austria two weeks ago, was pleased with the result, but still thought about his tiny but expensive mistake:
"Of course I'm happy although I could have had it all. I made only one little mistake over the course of the whole day and that cost me the top spot. But second is fine. It also means I'm going to the Olympics so I'm happy."
Stunning comeback, passes and crashes
Another rider happy to race down the Lake Louise course was Nate Holland. Coming back from a shoulder injury suffered in Montafon two weeks ago, 'Nate the great' was already back on his board and in racing mode ending up seventh of the men's result.
A great finish which also stood out as the heats did themselves.
Despite being forced to race in heats of four due to the snow situation given in the ski resort in Alberta, Local Organisers together with course builder Jeff Ihaksi (CAN) had provided a super course which – according to third rank finisher Alex Deibold – led to great racing with many passes.
But when there are passes, there is tight racing, and when there is tight racing there might be also some carnage.
The most prominent victims of today where 2011 and 2013 World Champion Alex Pullin (AUS) and Pierre Vaultier (FRA) who got intermixed in heat seven.
Both went down hard in an awkward crash.
While the Aussie was able to walk away after a few minutes, Vaultier had to be transported down.
Besides those two, several others went out due to falls such as David Speiser (GER), best qualifier Christopher Robanske (CAN) and Robert Fagan (CAN) – both Canadians in their quarter finals at the same wu-tang right after the start.
FISsnowboard.com
22 December 2013 00:46