The ride up the mountain is quiet and very smooth because the 6.3km-long lift is barely two years old. I am alone in the eight-seat gondola, since, at 9.30am, still the "rush-hour", there was no one else waiting at the base station. I am heading for a ski area that has a network of recently installed high-speed chair-lifts with "hands-free" ticket scanners and a snow-making system armed with 53 cannons. The hotel that I have just left offers large, comfortable bedrooms, bathrooms with baths (by no means a given in four-star-hotels in this part of Europe) and all mod cons, plus piped music (until I find the switch that silences it).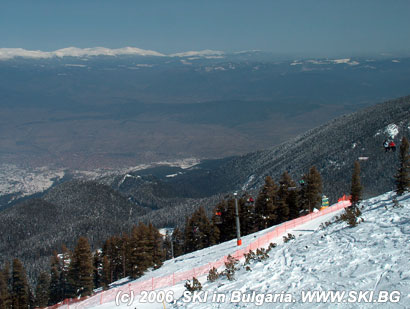 Admittedly, the ride up the narrow, rutted road the previous evening told a different story; but come the morning, Bansko, in Bulgaria, defies most of the stereotypes of Eastern European skiing, renowned for its inefficient, outmoded equipment and accommodation. Add the bright weather and plentiful snow, and one might, just, be in Colorado.
A decade ago, things were different. With striking frankness, the 1994 Good Skiing Guide recommended that "anyone planning a holiday in Bulgaria should first find out what they are letting themselves in for". Many changes had taken place in the preceding year, the guide said, but the country's skiing still bore no comparison with that in the Alps. It warned sternly that "no comparison should be attempted".
Among the guide's concerns were the quality of the food ("washed-out tastelessness"), the medical services ("hospitals reported to be very basic, unclean and lacking facilities"), and the ski equipment for hire ("locally made, not of the quality you would find elsewhere in Europe"). The guide concluded that anyone concerned by these matters - presumably, most skiers - "should perhaps consider a holiday elsewhere".
Maybe the criticisms had an impact. Certainly, Bulgaria languished in the following years: its share of the UK skiing market fell from eight per cent in the mid-1990s to a little more than two per cent at the end of the decade. Now, however, Bulgaria is promising to make a comeback. This season, eight British tour operators are offering holidays there; just a couple of seasons ago, only two were.
Why the sudden change? It's thanks partly to Bansko, a resort created in the 21st century, but mostly to Andorra. In the late 20th century, the Pyrenean principality took a firm hold on the market for budget skiers from the UK. By the 2002/3 season, Andorra attracted 14 per cent of UK skiers. But then it decided to go up-market. With its new, stylish hotels, Andorra began to price itself out of the budget sector. That presented a problem for British tour operators. Where were they to provide cheap holidays for new skiers? The answer was Bulgaria.
The established Bulgarian resorts are Pamporovo and Borovets: it was their shortcomings that prompted the 1994 Good Skiing Guide's criticisms. Bansko barely existed then, but now, thanks to an investment of £18m, it is the country's most modern resort. Even two years ago, Bansko, set on a high plateau 150km south of Sofia, was a town of 10,000 people with a ski area loosely attached. Then, access to the main part of the ski area - which rises from about 1,700m to 2,560m - was via a long and winding road; now, the gondola runs straight up from Bansko's south-western extreme. The result has been greater convenience for skiers, and a huge opportunity for property developers.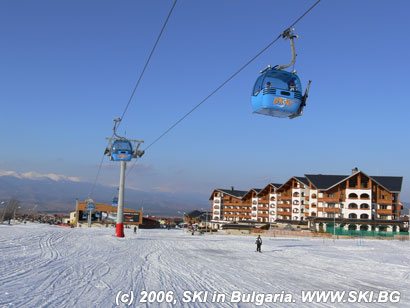 Alongside the gondola base is a new five-star Kempinski hotel, and beyond is a vast construction site dominated by other new hotels (among them the Lion, only 10 days old when I stayed there last week). Most of the shops and offices nearby are estate agencies bearing such names as Balkan Dream Properties, Balkan Villas and Bulgaria4Sale.
Bulgaria uses the Cyrillic alphabet. But almost all Bansko's property marketing is in Roman script and in English. Why? Because the British account for the biggest slice of the resort's 950,000 skier-days per season, and because, by comparison with Bulgarians, we are very rich. Andorra's rejects are welcome to ski here, and they are even more welcome if they fancy spending £34,530 on a furnished studio apartment.
Bansko's ski area opened on 17 December. I arrived three days later. It's risky to ski so early in a season: few guests come before Christmas and most get their holidays cheaply, so resorts often feel justified in opening the pistes progressively to reduce labour costs. Although I did get the gondola to myself, only three other lifts at the resort were working. Barely a third of the pistes were open. I regretted not being able to ski the 16km run from the top of the slopes to the base of the gondola, but skiing the pistes that were open and "visiting" a couple that were technically closed (including the resort's single expert run) at least gave me the measure of the area. Its lifts and piste-grooming are good; the terrain is adequate for beginners, and more than adequate for intermediates; and the size of the area, with only 65km of pistes, is limited.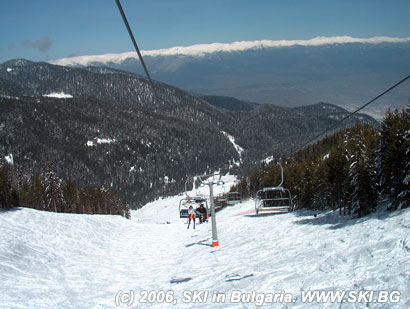 Despite the 1994 Good Skiing Guide's strictures, some comparison of Bulgaria and Andorra is in order. In terms of the ski slopes, there's no contest; Andorra's skiing is linked into areas that are bigger and better. In terms of cost, Bulgaria has the advantage: in Crystal's 2005/6 brochure, the cheapest week in Bulgaria, at Borovets, is priced at £319, while the equivalent holiday in Andorra is 10 per cent more expensive, even though the flight to the Pyrenees is much shorter. Compare an average four-star holiday in Bansko with one in Andorra, and the differential is about the same. Skiers' spending power in Bansko is high: half a litre of beer costs around £1 on the slopes, and I had lunch at a basic café in town for £2.
Aesthetically, there's not much to choose between Bansko and the Andorran resorts. The former is grim, the charm of its old centre being nominal at best and compromised by the English-speaking hustlers outside restaurants; the latter are architecturally challenged and set in narrow, often dark valleys. About Bansko's cuisine, I have nothing good to say; and, fortunately, I have no experience of the medical facilities. In contrast with the situation in Bulgaria a decade ago, Bansko's rental equipment is fine.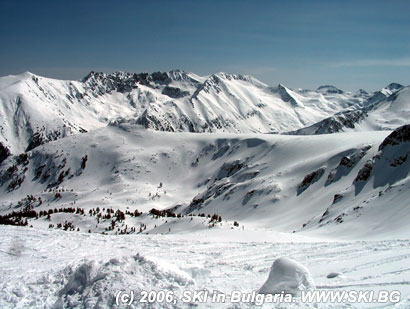 Is Bulgaria the new Andorra? That's not a question to raise with those involved in marketing Bansko. It is irksome to them because it suggests that their expensively developed resort is just a bargain-basement destination. They might be happy that my answer is "no", but they shouldn't be. Because it is my view that Andorra remains the better place for value-for-money skiing.
TRAVELLER'S GUIDE
GETTING THERE
Crystal (0870 160 6040; www.crystalski.co.uk) offers seven nights' at the Lion hotel in Bansko from £395, including flights and transfers. A six-day lift-pass costs £98 for adults; ski rental packs are £52, snowboard £70; ski-school fees for six half-days are £78 (skiiers), £98 (boarders).
Thomson, Crystal, Inghams and other operators run holidays to Bulgaria. Bulgaria Air (020-7637 7637; www.air.bg) flies from Gatwick and Manchester to Sofia; British Airways (0870 850 9 850; www.ba.com) flies from Heathrow to Sofia.
STAYING THERE
Kempinski Hotel Grand Arena Bansko, Bansko, Bulgaria (00 359 7443 8888; www.kempinski-bansko.com). Doubles from €158 (£113), including breakfast.
FURTHER INFORMATION
Bansko (http://www.ski.bg)
The Independent, UK
Published: 31 December 2005