Marc Girardelli hatte als Berater des bulgarischen Skiverbandes seinen Anteil am neuen Weltcup-Standort Bansko. Mit Ski2b spricht er über die neue Speed-Strecke und die Erwartungen an den Weltcup in Bulgarien. Außerdem gibt er seine Einschätzungen zur kommenden Weltcup-Saison und der WM in Val d`Isere.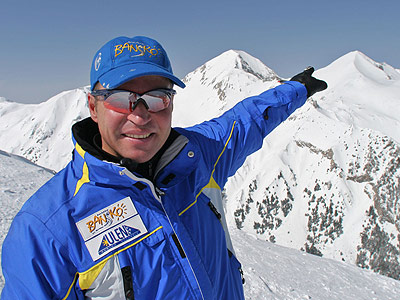 Marc Girardelli on the slopes of Bansko, in background is Vihren peak - 2-nd highest summit in Bulgaria. Photography (c) ULEN
Ski2b.com: Hallo Marc, Ende Februar/Anfang März findet erstmals ein Weltcup in Bansko (BUL) statt. Du hast dazu sicher einiges beigetragen als Berater des bulgarischen Skiverbandes. Warum eigentlich Bulgarien?
Marc Girardelli: Das ist eigentlich eher zufällig gekommen. Ich bin ja schon lange mit der Kempinski-Gruppe verbunden, wir machen Events in St. Moritz. Die haben mich einmal gefragt, ob ich nicht in Bansko die Saison miteröffnen will, denn dort gibt es auch ein Kempinski-Hotel. Dort habe ich dann in den drei bis vier Tage die Menschen kennengelernt. Die wollten nach 15 Jahren Totenstille im Verband, bei denen nach dem Fall des eisernen Vorhangs wirklich kein Cent in den Sport geflossen ist, endlich wieder aktiv werden. Ich habe dann eine beratende Funktion übernommen.
Welche Hindernisse galt es zu überwinden, um einen Weltcup nach Bulgarien zu holen?
Erstaunlich wenig, da muss ich wirklich der FIS ein Kompliment aussprechen und mich bedanken. Das wir mit Bansko so schnell zum Zuge kommen bei einer so großen Warteschlange, das war nicht selbstverständlich. Nach nur drei Jahren haben wir nun diese Chance bekommen. Die Länder in Osteuropa schnuppern Morgenluft, können sich das Skifahrern wieder leisten und sind ein attraktiver Wachstumsmarkt. Daher ist es richtig, hierher Rennen zu transferieren und dafür unattraktive Wettbewerbe in Westeuropa zu streichen.
In Bansko steht Speed auf dem Programm. Welche Charakteristik hat die Strecke?
Nun, zunächst kann man allgemein sagen, dass das Skigebiet für europäische Verhältnisse sehr selektiv ist. Es gibt viele anspruchsvolle und attraktive Pisten und das wird man auch beim Weltcup sehen. Die Damen werden hier nichts zu lachen haben (Marc lacht), schon die Jungs beim Europacup mussten sich richtig strecken. Es ist eine Strecke ein bisschen wie in St. Anton. Sehr steil, es kommt eine Kurve nach der anderen. Die Jungs konnten dabei schon kaum einmal in der Hocke bleiben, so steil ist es. Außerdem erwarten wir sehr viele Fans. Bei den letzten Rennen in Bulgarien in Borovets kamen in den Achtzigern 30-40.000 Zuschauer, das ist ein richtiger Hexenkessel.
Wen erwartest du hier vorne?
Die Strecke ist eine Goldgrube für Mädchen, die technisch gut drauf sind. Ich sehe hier eine Pärson mit Vorteilen, wenn sie wieder einen schnellen Ski hat. Die Mädchen müssen das Tempo gut verkraften können. Hier gibt es kaum Gleitstrecken. Es könnte auch für Maria Riesch gut passen. Ich bin einer ihrer größten Fans - sie könnte einmal die Erbin von Kostelic oder Pärson werden, wenn sie sich so weiter entwickelt.
Wie geht es nach dem Weltcup 2009 in Bansko weiter? Sind weitere Weltcups schon sicher?
Das hängt jetzt natürlich von diesen Rennen ab. Wenn alles klappt, wenn wir 30 - 40.000 Zuschauer haben, dann werden wir die Chance bekommen, hier alle zwei Jahre ein Weltcup-Rennen auszurichten. Vielleicht nicht immer eine Abfahrt, das ist ja der größte Aufwand, dafür muss das halbe Skigebiet gesperrt werden. Vielleicht auch mal einen Riesenslalom oder Slalom oder eben den Super-G. Wir sind natürlich auf das Wetter angewiesen - wenn ein Schneesturm kommt, hast du keine Chance.
Die Weltcup-Athleten stecken ja gerade mitten in der Vorbereitung. Was bekommst du mit von deren Trainingsstand?
Ich hab jetzt noch nicht soviel gehört. Die Speed-Teams sind in Neuseeland, die anderen zum Teil in Südamerika, in Portillo. Dort war ich auch kürzlich und es hat sehr gute Schneeverhältnisse. Bei so viel Schnee kannst du manchmal keine Piste präparieren, aber Tiefschneefahren ist auch ein gutes Training.
Erwartest du bei den Herren ein Duell Miller gegen Svindal um die große Kugel - oder kann ein anderer da mitmischen?
Ein Benni Raich war letztes Jahr einfach von der Rolle. Er hatte Sand im Getriebe - vielleicht lag es auch am Material? Zwar hat er auch ein Rennen gewonnen und viele gute Ergebnisse, aber er kann mehr. Und er kommt wieder zurück, da bin ich sicher. Er hat nur etwas zuviel Konzentration auf den Speed gelegt und dabei seine Stärken vernachlässigt, das hat ihn viele Punkte gekostet. Miller hat sich ja erst im Laufe der Saison richtig entwickelt und dann eigentlich Glück gehabt, dass Svindal durch seine Verletzung ausfiel. Sonst wäre das zu dem Zeitpunkt eine gemähte Wiese gewesen. Svindal hätte mit etwas Raffinesse leicht die große Kugel erringen können. So war es spannend, auch ein Cuche hat noch mitreden können. Ich sehe auch jetzt wieder drei bis vier Kandidaten.
Wer kommt noch in Frage? Daniel Albrecht? Peter Fill vielleicht?
Albrecht oder auch ein Marc Berthod sind mir nicht konsequent genug. Das Potenzial für mehr haben beide, es gibt ja auch immer gute Ergebnisse. Aber über drei bis vier Monate ganz vorne dabei zu sein, das ist noch eine andere Hausnummer. Peter Fill wird den großen Wurf wohl eher nicht machen, obwohl ich ihm alle guten Ergebnisse wünsche. Ted Ligety steht bei mir hoch im Kurs. Wenn er sich im Bereich Super-G und Abfahrt noch etwas entwickelt, dann kann's was geben!
Das Großereignis ist ja die WM in Frankreich. Wie siehst du die Organisationsquerelen, die dort im Vorfeld passiert sind?
Ich weiß gar nicht, was das soll. Die hatten vor zehn bis 15 Jahren dort Olympische Spiele. Die Struktur ist doch da, Betten sind da, die Sportanlagen auch. Die müssen doch eigentlich nur ein paar Netze aufhängen. Das wird eine tolle WM geben, da bin ich sicher.
Dort gab es ja im letzten Jahr viele Beschwerden der Athleten wegen der Abfahrtspiste 'Face de Bellevarde' - du kennst diese Diskussion vielleicht noch von den Winterspielen 1992, dort hast du Silber im Super-G geholt. Wie ist das zu bewerten?
Die 'Bellevarde' ist eine außergewöhnlich attraktive Strecke. Ich bin zwar nur einmal im Training ins Ziel gekommen - aber da war ich der Schnellste. Wer hätte denn damals gedacht, das gerade ein Gleiter wie der Ortlieb hier gewinnen würde? Daher verstehe ich die Kritik nicht. Du musst mit viel Tempo reingehen und mit viel Tempo rauskommen, dann geht das schon (lacht). In der Felspassage ist es natürlich ein bisschen eng gesteckt. Es wird sicher ein spannendes Rennen.
Auf was freust du dich vor der Saison 08/09 am meisten?
Ich freue mich vor allem auf einen Winter mit schneebedeckten Gipfeln schon ab November. Das wäre gut für den Skisport und auch gut für die Skiindustrie, auch für meine eigene Skibekleidung. Wenn es später ein bisschen wärmer wird, das ist nicht so schlimm. Aber die Leute müssen Lust auf Wintersport bekommen, und das möglichst am Anfang der Saison und vor dem Weihnachtsgeschäft.
Was steht bei dir im kommenden Winter an?
Ich habe bis zum April 14 bis 15 Ski-Events in Planung. Das sind ganz unterschiedliche Sachen, zum einen für große Kunden aus dem Bereich der Finanzen, aber auch für eigene Kunden. Ich werde da immer gefragt: Können wir nicht mal im Tiefschnee fahren oder Heliskiing machen, oder auch einmal richtig Speed trainieren? So hab ich kürzlich ein Downhill-Camp in Sulden gemacht und das wird es wieder geben. Ich lasse mich also leiten - und der Winter füllt sich so sehr schnell.
Das heißt, auch ein Skifahrer wie du und ich kann ein Camp mit dir buchen?
Ja, auf meiner Webseite kann man sich dazu einfach anmelden. Ich frage dann erstmal nach der Qualifikation. Soll es sportlicher sein oder eher zum relaxen? Ich mache zum Beispiel beides. Wir sind Ende September in Kitzbühel, fahren da zweimal im Kitzsteinhorn, gehen aber auch zusammen auf das Oktoberfest und machen Wellness. Kurz darauf geht's im nächsten Camp dann richtig sportlich zur Sache.
Ski2b: Dabei viel Erfolg Marc - und danke für das Interview!
www.Ski2b.com Redaktion
26.08.2008 - 12:21