New Zealand skier Bridgwater clocked 1.37.32 to Cafe's 1.37.48 to finish sixth overall in the international field, recording his best ever result to lower his world ranking. Café, who won the national Super G title yesterday, was placed seventh equal with Anton Lahdenperae 23 of Sweden, skiing to world ranking.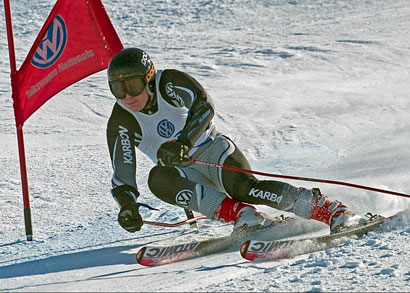 Volkswagen National Team member Janelle Miller had a convincing run to win the national women's giant slalom title, consolidating a successful series after winning the national Super G title yesterday. Today's giant slalom result will improve her world ranking.
The men's race attracted 71 competitors including European and American World Cup athletes. Spectators were treated to exciting action on the course on the Hurdle and there was a high casualty rate particularly among the top seeds.
The event was won by the first placegetter in yesterday's national Super G, World Cup skier Niklas Rainer 25 of Sweden in 1.35.14. Ryan Wilson 21 of USA won the silver medal in 1.36.19 and Jon Olsson 26 of Sweden took out bronze in 1.36.30. Bulgarian national alpine competitor Kilian Albrecht take 5th place at Giant slalom in Coronet Peak.
Thirty women entered the giant slalom with Swedish Word Cup team members, currently training in the region, dominating the top three places. The action was tight with Veronica Smed 19 and Frida Hansdotter 22 tying for first place and the gold medal in 1.40.95. Third place went to team mate Therese Borssen 24 in 1.41.51. Smed also won yesterday's women's national Super G. Miller was fifth overall in 1.43.88
Alice Ralston 19 of the Queenstown Alpine Ski Team (Auckland) was second New Zealander in 11th place and Lucy Tait-Jamieson 20 (Auckland) who skis with the Cardrona High Performance Centre was third in 13th place overall.
Ski Racing New Zealand General Manager Simon Mills says today's giant slalom was a very high standard.
"There were strong performances from Janelle Miller, Mark Bridgwater and Tim Cafe and considering the high casualty rate all the New Zealand skiers who finished did incredibly well to get through. We had some good results throughout the field."
The Volkswagen National Championships slalom will be held tomorrow and has been rescheduled from a night slalom to a daytime event due to warmer conditions on the mountain.
NZ Ski
August 29, 2008