Тhe premiere tour of Blickinsfreie´s newest documentary "AT EQUILIBRIUM" kicks off  the 8th October with the WORLD PREMIERE in Sofia, Bulgaria. "AT EQUILIBRIUM presented by RIPZONE EUROPE and BIGAIRBAG is the newest treasure of Blickinsfreie´s eastern European snowboard documentaries.
After "Poland – A snowboard documentary" , "Slovaki A true movie about snowboarding" and last years highlight "From Romania with Love" AT EQUILIBRIUM deals with the passionate people developing snowboarding in Bulgaria. Each one of those movies has it's own direction, it's own heroes who may not necessarily be known to a larger audience but that all creates our common history. AT EQUILIBRIUM makes clear that we are all one big family with every little part worth to get to know.
Already the movie title says everything. The people representing the local scene are just unbelievable balanced and real which makes this movie undoubtful to the highlight of the series.
This years flick is featuring riders from more than 7 different countries including big names like Marc Swoboda, Darek Bergmann or Thomas Franc. Merging that many different cultures, languages as well as riding levels has never been more interesting before.
Western professionalism meets eastern passion – the perfect mixture for a unique story.
Of course big after parties with live concerts and DJ's are inclusive in most of the premiere stops. So, hurry up and make your way to one of the following premieres – it's going to be worth it!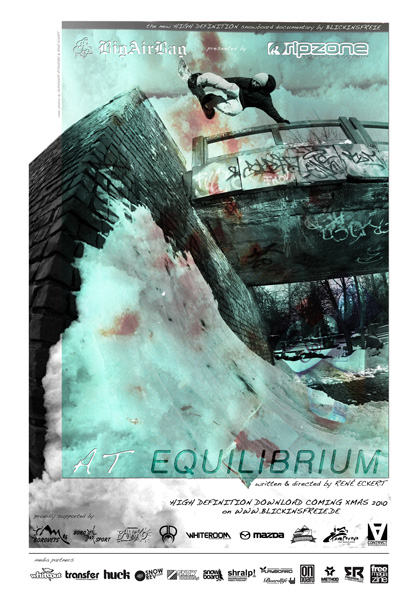 AT EQUILIBRIUM - PREMIERE TOUR
08.10.        SOFIA (BUL) - DOM NA KINOTO (World Premiere)
09.10.        WROCLAW (POL) - KINO HELIOS
09.10.        VAL SENALES (IT)
16.10.        GRENOBLE (FRA) - LA BASTILLE
22.10.        GLIWICE (POL) - KINO BAJKA
23.10.        GDANSK (POL) - KINO HELIOS
23.10.        BUCHAREST (ROM) - KULTURHAUS
28.10.        NEW YORK CITY (USA) - SUBURBAN BLEND
29.10.        ZOETERMEER (NED) - SNOWWORLD
30.10.        BIALYSTOK (POL) - KINO HELIOS
05.11.        HELSINKI (FIN) - BOARDEXPO – SPORTS MOVIE FESTIVAL
06.11.        RZESZÓW (POL) - KINO HELIOS
12.11.        PRAHA (CZ) - 2.PATRO
13.11.        STUBAITAL (AT) - RIPZONE OPENING
20.11.        RIGA (LV) - VEF 5 KORPUS
25.11.        LEIPZIG (GER) - HORNS ERBEN
27.11.        OBERWIESENTHAL (GER) - KIWI´S
04.12.        LIPTOVSKY MIKULAS (SVK) - DOM KULTURY
19.12.        ARENA PALTINIS (ROM)
20.12.        VAL D´ ISÈRE (FRA) - CENTRE HENRY OREILLER
25.12.        PLAUEN (GER) - CLUB ZOOMA
TBA                ZAGREB (CRO) - KINO EUROPA
TBA                KHARKOV (UA)
TBA                MOSKAU (RUS)
TBA                PLZEN (CZ)
TBA                BIELSKO BIALA (POL)
TBA                BRNO (CZ)
By christmas time the flick will be available as High Definition  download – Don´t miss getting your own High Definition copy on www.blickinsfreie.de
Make sure you make to one of the screenings near you!
René Eckert
BLICKINSFREIE