SKI JUMPING. While the first official competitions were already held at the new ski jumping hills in Poland, Kazakhstan and South Korea, a hill in Turkey is almost completed and four new facilities are constructed in Russia, the clocks tick a little slower in Bulgaria. But something is going on there, even if on another level.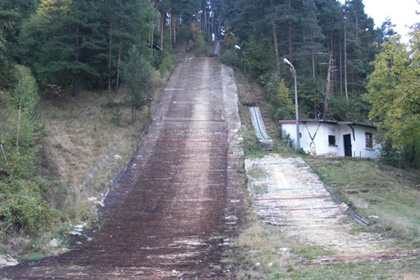 Samokov Ski Jumping Hill K-40, K-15, foto: Horst Tielmann / FIS
Horst Tielmann, Continental Cup coordinator, visisted a delegation of the Bulgarian Ski Association mid October to discuss hill-construction projects in the south-east European country. Together with the delegation Tielmann travelled to various existing hills in Bulgaria.
Training center possible in Samokov
First stop of the trip was Borovets. There is an old K90 hill that was used until 2001. Then it sank into a slumber, before it took a lot of effort to re-activate it again. But the infrastructure in the village in southwestern Bulgaria is not perfect, and also the possibilities for spectators are not really suitable for a modern facility.
Not far from Borovets is Samokov, home town of the best Bulgarian ski jumper Vladimir Zografski, who attracted attention with some good results in the past winter and also this summer.
There are three small hills (K40, K25, K10) in Samokov, but they are not in a good condition. But still about 30 young athletes are training in Samokov. There would be a possibility to build bigger facilities besied the three small hills. The good thing would be that competitions there would be held in walking distance from Samokov. The town is a little bigger than Borovets. The Rila Mountains are considered to have a snow-guarantee and are one of the biggest tourist attractions in Bulgaria.
Jumping in Sofia in the long-term
But in Bulgaria it is also considered to bring ski jumping to the people, that means to build a facility in the capitol Sofia. There are plans to build a HS 115 and a HS 80 there.
Just like with a new hill in Moscow, competitions would be held in a big city with great infrastructure and short distances like it is in Oslo and Sapporo. With competitions in Moscow, Sofia, Sapporo and Oslo the FIS could continue its path in ski jumping that was started in cross country skiing a couple of years ago.
Bring the event to the spectator
In cross country skiing there are sprint-events in big cities like Duesseldorf, Prague or Stockholm in front of thousands of enthusiastic spectators. The event is coming to the fan and not the fan to the event. This kind of competititons is also a great possibility to present the sport to a broad audience.
In a meeting with the Bulgarian Sport Minister, the president and the vice-president of the Bulgarian Ski Association, defined a list of priorities. According to that, a training center with a K75 and more smaller hills shall be built in Samokov first.
Zografski can do it
In the second step the Bulgarians want to lay the foundation for building a hill in the capitol. So construction in Sofia shall start in the medium to long term.
But neverthess: Things are progressing slowly in Bulgaria. And if Vladimir Zografski would be able to score points regularly in the World Cup he could do his part in getting great training possibilities in his country soon.
FISskijumping.com
22.10.2010 17:15