BEIRUT. Lebanon. The dropping temperatures and early storms this winter may be a chilling development for most Lebanese, but one group is happier and happier as the weather becomes colder – skiers.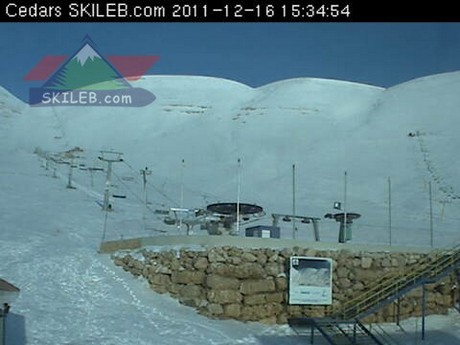 "The weather this year is exceptional with the early snow," says Marie Succar excitedly, owner and manager of the Cedars ski resort. She predicts this will be the best skiing winter Lebanon has seen in 25-30 years: "We've never had snow this early before. We even had a little bit in November."
So far, the Cedars is the only ski resort that has opened this season, but it is rare for any ski resort to start welcoming skiers this early in December.
"It is unusual to get snow this early," says Ronald Fayegh, founder of the skileb.com – a website for information about skiing and mountain activities in Lebanon that also sells travel packages.
"Usually it snows first in mid-December. Historically the ski slopes open between Christmas and New year," he recalls, adding that last year was also an outlier with very early snow and resort openings.
While Lebanon's picturesque mountains are already a holiday draw for tourists, Fayegh says that the early snowfall has led to a rush for bookings for Christmas, New Year and beyond.
"Many people are already booking for the season on skileb, basically because of the early snowfall. They can see snow on the webcams. Even more [bookings] than last year, and [the resorts are] already filling up into February and January," he reports, noting that most of the bookings are coming from the Gulf and other neighboring countries.
Websites for Lebanon's ski resorts, including the Cedars and Mzaar – located in Faraya – are broadcasting webcam footage online that show snow levels.
According to Fayegh, the Cedars has about 60 centimeters of snow while the lower-elevation resorts in Faraya have seen 40 centimeters. The Cedars resort has been open at 50 percent capacity since last Sunday, but Mzaar is in need of another snowfall to get the season under way.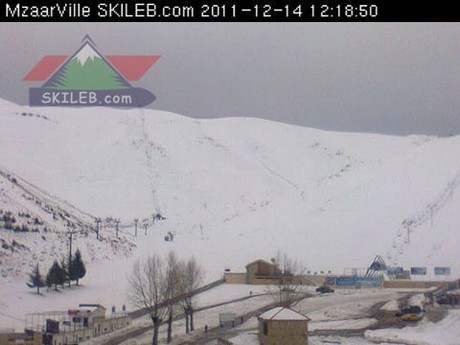 "We prefer to have another snowfall before opening. We're doing our best to open during the holidays but it depends on the snow," says Christian Rizk, chairman of Mzaar – Lebanon's largest ski resort with 18 lifts and 80 kilometers of skiing terrain.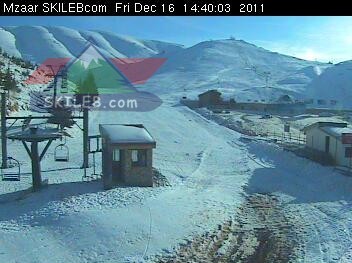 Rizk believes that the early snowfall is a good sign but there is no reason to hurry for an early opening.
"If you are open earlier there are no skiers, because kids are still in school and people are working. You don't have the rush yet."
Succar agrees, but has gone ahead with a limited opening of the Cedars resort. She says that nearly 100 people have come since they opened and that she plans this Sunday to start running the highest chairlift at the resort – and consequently the highest run in Lebanon – on the face of Quornet al-Sawda, which reaches an elevation of 3,000 meters.
While alpine skiing is Lebanon's most popular winter activity, snowshoeing and snowmobiling trips are alternatives, especially early in the season when the resorts do not have full snow cover.
Succar says that a good season can bring 10,000 visitors to Lebanon's slopes, which is what happened last year and this year looks like it could be just as successful. Higher prices in Europe could contribute to Lebanon's popularity as a ski destination as well, she believes.
"Especially now, because the euro has gone really high, it is much cheaper for people from the Gulf to come here than go to Europe. And Europe is not getting that much snow yet this year."
Once skiers have experienced Lebanon, they are hooked by its attractions, Succar adds – snow or no snow.
"We have excellent weather. You can ski in the morning and go downtown in the afternoon. If you want nightlife you don't need to travel or take a plane. In Lebanon you can do multiple activities in the same day and in the same area."

A version of this article appeared in the print edition of The Daily Star on December 16, 2011, on page 12.
By Alex Taylor
The Daily Star
December 16, 2011 01:05 AM