Kilian ALBRECHT is no stranger to the slalom turn, having spent many years on the Austrian A team racing world cup where he had no less than 18 top ten world cup slalom finishes, two being on the podium in second. Fair to say he knows how to turn'em. He showed exactly that skill today on Mt Hotham's Snake Gully race track showing the field a very clean set of heels with a convincing win. In fact it is the 20th best FIS point result of his long carrer, and long it is at 36 years of age he is the oldest man racing world cup.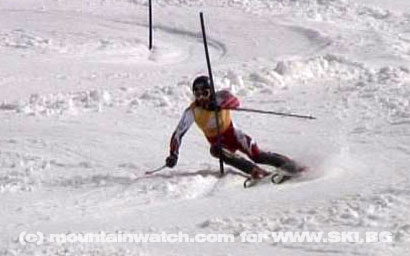 Kilian Albrecht (BUL) won slalom at Mt Hotham, AUS
Now racing for Bulgaria after a falling out with the Austrian federation he is confident he is strong and still quick enough to medal at the coming winter Olympics in Whistler Feb 2010.
Loosing no speed, 3 turns in 2 seconds. That's modern slalom.
While the weather and skiing in general was pretty good at Hotham today the racing was about as tough as it comes. A pretty good overnight freeze promised a hill in good shape for racing, as in the harder the better. However it took only a few of the men hitting the race line for it to rapidly deteriorate. With each skier generating over 200kgs of pressure to the ski and snow through G force its no wonder. A pretty tight set compounded the issue and the first run saw the field cut from 78 to 38, and for the women from 46 starters to 29.
The second run saw a similar attrition rate only this time higher for the women with only 18 getting a across the finish line twice for a final result. With the biggest win of her young career Australian Emily BAMFORD skied steady and solid to finish nr1 gaining a huge boost to her FIS world ranking. Second was Swiss skier Giannina CAVIEZEL and third, with a barn storming second run through a flash snow storm that threw down sheep skin size snow flakes was Florine DE LEYMARIE jumping from 13th to 3rd.
The Men's competition, was started earlier with Kilian ALBRECHT's easily winning by over two seconds and out classing a fairly classy field of skiers. Second was last years Continental cup mister Bjoergvin BJOERGVINSSON third was Swede Magnus ANDERSSON.

ANC cup Mt Hotham day 3 highlights from Mountainwatch.com on Vimeo.
More slalom racing and the final day of the ANC cup at Hotham will happen tomorrow (August 21). After that look out for some skier X madness over the weekend, which is also the highest level racing on the tour in Australia (ANC cup).
Steve Lee / mountainwatch.com
Aug 20, 2009 / 11:01:30 PM
FIS Australia New Zealand Cup - Day 1
Olympians And National Team Athletes
The FIS Australia New Zealand Cup is the highest level Alpine Ski Racing in the Southern Hemisphere. At Hotham
this week you will see Olympians and National Team athletes from 18 different nation's competing in two Giant Slalom and two Slalom races. The field will be racing for the title of ANC Champion and to earn continental cup points with the chance to win the 31st start position in Europa cup. With a strong field of competitors its also a excellent opportunity for all the field to improve their world ranking.
Wild Weather And Delays
After a few days of wild weather, very much the norm in the last few weeks, Monday's race day was abandoned and the weather day was used. Colder conditions blew in and some snow fell over Monday and as conditions cleared things looked pretty good for a Tuesday kick off.
Tuesday morning came with a glorious sunrise, which ski racers see plenty of arriving at the hill at 6.30am. Unlike most skiers or holiday makers who are still tucked in the wrapper punching out the Z'ds at that time of day. It is a stunning time of day, and today at Mt Hotham a busy time of day as 130 competitors, plus 50 to 60 coaches, 40 odd course workers, 30 officials and a bunch of mountain staff invaided Snake gully and Heavenly chair at first light.
Following a 30min warm up inspection was declared open with the first run of two scheduled for a 8.30am start. The Hotham race track is a demanding one, starting from the very top of the Heavenly valley chair, running along the ridge before ducking under the permanent race start hut diving into the cornice bowl across a short flat then breaking hard left down Snake Gully finishing right at the bottom of Heavenly chair. It's a 260m vertical drop of high speed turns (about 34 of them) that takes just under a minute to complete. Any other day you would get your pass pulled for such a stunt. Today its all about speed.
This is the first of four days racing and the last of the Australian FIS series, and as said earlier the highest level of racing to be seen south of the equator.
Swede's Kick Ass Again
Once again the men's charge was led by the Swedish team with Niklas Rainer taking the top honors. He was challenged by ex Austrian National team skier and world cup winner (who now skis for Bulgaria) Kilian Albrecht. Kilians stronger event is the Slalom, worth checking out later in the week. Also battling it out for top spots were Oliver Jenot of Monaco and Jared Goldberg of the USA. Several aussie also were in the hunt for top 10 places including Mt Hotham's Christian Geiger and Luke Laidlaw along with Australian continental cup team members Huge and Bryce Stevens.
Eastern European Women Are Quick
Top women were Jana Gantnerova of Slovakia, Rebecca Gunnarstedt of Sweden, Tereza Kmochova of Cheqz more checqs , French, Suisse, NZ and a couple of Aussies to round out the top ten.
Steve Lee / mountainwatch.com
Aug 18, 2009 / 06:06:37 PM
FIS Australia New Zealand Continental Cup
Hotham Alpine Resort is set to host the highest level of Alpine Ski Racing in the southern hemisphere this week with the FIS Australia New Zealand Continental Cup from 17 - 20 August. This event will features Olympians and National Team athletes from 18 different nations who will compete in two Giant Slalom and two Slalom races, to take home the title of ANC Champion and to elevate their world ranking.
More than 80 male and 50 female competitors will compete for the title. Competitors will represent race clubs from major Australian resorts and countries from as far as Slovakia, Hungary, Sweden and the US to name a few. The competitions runs from 17-20 August with a weather day scheduled for 21 August.
Five of the top seven ANC Cup points holders for the men and two of the top six ANC Cup points holders for the women will compete this week including Bjoergvin Bjoergvinsson who is ranked number 1 in the ANC points holding.
The next leg of the series is the New Zealand Winter Games at Coronet Park from 21-30 August.
Steve Lee / Chillfactor
Aug 17, 2009 / 11:57:57 AM

ANC races series at Hotham, day 1 highlights. from Mountainwatch.com on Vimeo.

ANC cup Day 2 highlights from Mountainwatch.com on Vimeo.
OFFICIAL RESULTS
Place Mt Hotham (AUS) Discipline Slalom
Date 20.08.2009 Category Australian New Zealand Cup
Race codex 0026 Gender M
Valid for FIS Points YES TD Name Wright Gary (USA)
Rank Bib FIS Code Name Year Nation Run 1 Run 2 Total Time FIS Points
1 52 92591 ALBRECHT Kilian 1973 BUL 45.39 49.11 1:34.50 6.00
2 54 250127 BJOERGVINSSON Bjoergvin 1980 ISL 46.63 50.14 1:36.77 20.41
3 63 500819 ANDERSSON Magnus 1981 SWE 46.76 50.66 1:37.42 24.54
4 64 501026 RAINER Niklas 1983 SWE 48.10 50.28 1:38.38 30.63
5 56 193481 FAVRE Arnaud 1987 FRA 47.21 51.68 1:38.89 33.87
6 66 400163 ROOIJ VAN Joery 1986 NED 48.34 50.67 1:39.01 34.63
7 61 40332 STEVENS Hugh 1986 AUS 48.21 51.09 1:39.30 36.48
8 69 40304 STEVENS Bryce 1984 AUS 48.89 51.15 1:40.04 41.17
9 67 60015 MOLLIN Bart 1981 BEL 48.41 51.87 1:40.28 42.70
10 70 934566 ROBERTS Hig 1991 USA 48.99 51.44 1:40.43 43.65
32 finished
Place Mt Hotham (AUS) Discipline Giant Slalom
Date 19.08.2009 Category Australian New Zealand Cup
Race codex 0023 Gender M
Valid for FIS Points YES TD Name Wright Gary (USA)
Rank Bib FIS Code Name Year Nation Run 1 Run 2 Total Time FIS Points
1 52 501026 RAINER Niklas 1983 SWE 58.75 1:00.32 1:59.07 21.34
2 55 92591 ALBRECHT Kilian 1973 BUL 58.56 1:00.59 1:59.15 21.93
3 62 500819 ANDERSSON Magnus 1981 SWE 59.06 1:00.20 1:59.26 22.74
4 63 511348 TESTORELLI Moreno 1986 SUI 59.01 1:00.46 1:59.47 24.30
5 56 250127 BJOERGVINSSON Bjoergvin 1980 ISL 58.98 1:00.87 1:59.85 27.10
6 54 370022 JENOT Olivier 1988 MON 59.31 1:00.99 2:00.30 30.43
7 51 934643 GOLDBERG Jared 1991 USA 59.79 1:00.64 2:00.43 31.39
8 65 40489 LAIDLAW Luke 1992 AUS 59.58 1:01.19 2:00.77 33.90
9 64 400163 ROOIJ VAN Joery 1986 NED 1:00.17 1:00.91 2:01.08 36.20
10 57 193481 FAVRE Arnaud 1987 FRA 1:00.13 1:01.35 2:01.48 39.15
54 finished
Place Mt Hotham (AUS) Discipline Giant Slalom
Date 18.08.2009 Category Australian New Zealand Cup
Race codex 0024 Gender M
Valid for FIS Points YES TD Name Wright Gary (USA)
Rank Bib FIS Code Name Year Nation Run 1 Run 2 Total Time FIS Points
1 59 934643 GOLDBERG Jared 1991 USA 59.70 1:04.73 2:04.43 20.32
2 63 501026 RAINER Niklas 1983 SWE 59.28 1:05.24 2:04.52 20.96
3 62 92591 ALBRECHT Kilian 1973 BUL 59.63 1:05.05 2:04.68 22.09
4 56 370022 JENOT Olivier 1988 MON 59.57 1:05.98 2:05.55 28.24
5 52 531392 JAMPOLSKY Grant 1989 USA 1:00.26 1:05.32 2:05.58 28.45
6 64 500819 ANDERSSON Magnus 1981 SWE 1:00.32 1:05.45 2:05.77 29.80
7 66 511348 TESTORELLI Moreno 1986 SUI 1:00.43 1:05.44 2:05.87 30.50
8 75 40489 LAIDLAW Luke 1992 AUS 1:00.35 1:05.58 2:05.93 30.93
9 57 40363 GEIGER Christian 1988 AUS 1:00.21 1:05.89 2:06.10 32.13
10 51 250127 BJOERGVINSSON Bjoergvin 1980 ISL 1:00.74 1:05.57 2:06.31 33.62
55 finished